Pewne jak w Banku. Czy to dalej ma sens?
Na otwarciu poniedziałkowej sesji giełowej główne banki europejskie notują silne spadki cen sięgające na ten moment ponad 4%.
Zdjęcie z platformy DIF Broker, lista instrumentów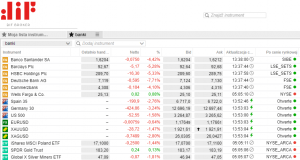 Czytając główne nagłówki mediów, możemy znaleźć, jak zawsze zresztą, powód takich spadków. I tak czytamy, iż akcje banków europejskich notują spadki na skutek zarzutów odnośnie przestrzegania polityki przeciwdziałania praniu brudnych pieniędzy.
Czytając takie wiadomości, można wysnuć wniosek, iż jest to spadek na skutek jakiegoś aktualnego wydarzenia. Lecz jeśli spojrzymy na wykresy akcji kilku głównych banków, zobaczymy, iż w dzisiejszych spadkach nie ma absolutnie żadnej niespodzianki. Zacznijmy od banku Santander.
Akcje banku Santander, wykres miesięczny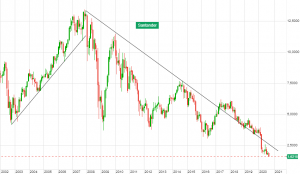 Patrząc na powyższy wykres Santander, wszelki komentarz wydaje się zbędny. Z cyklu: jeden obraz zastępuje 1000 słów. Od szczytu z 2008 roku akcje banku straciły na wartości 87%. I bynajmniej nie tylko Santander bank ma problemy, problem ten dotyczy całego sektora bankowego.
Akcje Barclays mierzone są w pensach
Poniżej wykres akcji angielskiego banku Barclays. Patrząc na wykres można ulec błędnemu przeświadczeniu, iż akcje kosztują 92 funty, nic bardziej mylnego, cena wyrażona jest w pensach.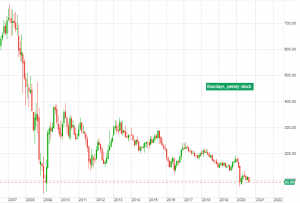 Widać to dokładnie, w okienku transkcyjnym.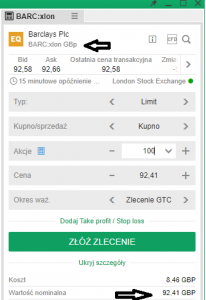 Składając zlecenie na 100 akcji, widzimy wartość nominalną transackji równą 92 GBP.
Pewne jak w banku?
Słynne powiedzenie, iż coś jest pewne jak w banku, leży w jaskrawej sprzeczności z wykresami akcji banków. Czym są tak zwane akcje Penny stock? Są to akcje firm, które reprezentują bardzo niską wartość rynkową.  I to takim firmom powierzamy swoje wszystkie oszczędności?
Pewne jak w banku? No nie wiem. Bank to przecież firma jak wszystkie inne. Cena akcji firmy daje nam informację o kondycji finansowej danej firmy. Owszem banki posiadają fundusz gwarancyjny na gotówkę, ale czy ten fundusz zdoła udziwgnąć problemy kilku banków jednocześnie?
Spojrzmy teraz na tradycyjnie silny kraj: Niemcy. Poniżej wykres Deutche Banku. Z pewnoscią każdy słyszał już o problemach Deutche Banku, w ostatnim czasie na skutek tych problemów nastąpiło połączenie Deutche Banku z Commerzbank. Nie będę tu już załączać wykresu CBK, powiem tylko iż od szczytu z 2000 roku CBK stracił na wartości 98%.
Wykres Deutche Bank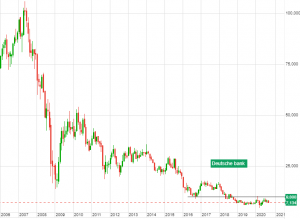 Słowo na koniec
Media głównego nurtu kierują całą uwagę społeczeństwa na kwestie bezpieczeństwa, zdrowia, wirusa, maseczek. Być może prawdziwy problem, leży zupełnie gdzie indziej.
Czytaj podobne: