Inwestowanie na giełdzie: czy warto?
Obecna sytuacja osób oszczędzających i posiadających swoje oszczędności w bankach jest dramatyczna. Każdego dnia słyszymy od różnych bankierów centralnych, którzy mówią: "ujemne stopy procentowe już tu są, to nowa rzeczywistość!"; to znaczy oszczędzający zamiast otrzymywać, są zobowiązani do zapłaty odsetek, to tak jakby czas płynął wstecz!
Dodatkowo wygląda na to, iż oficjalna inflacja nie odpowiada codziennej rzeczywistości. Większość cen niepowstrzymanie rośnie: ceny mieszkań, benzyny, żywności, rosną szybciej niż oficjalna propaganda!
Eliminacja gotówki
Równolegle wdrażane są środki odpowiadające rzeczywistości "Orwell'owskiej". W imię walki z praniem pieniędzy i unikaniem podatków, widzimy prawdopodobieństwo zniesienia fizycznych pieniędzy. Gdy to nastanie, władza będzie miała wgląd we wszystkie przeprowadzane przez nas transakcje: całkowite wyeliminowanie prywatności!
W tym kontekście, przy eliminacji fizycznych pieniędzy, nie będzie możliwości ucieczki. Przy eliminacji gotówki, będziemy zobowiązani do wpłaty swoich oszczędności na rzecz dowolnego banku komercyjnego. Będziemy płacić ujemne stopy procentowe oraz erozję wartości nabywczej waluty (inflację), biorąc pod uwagę inflacyjną politykę banków centralnych.
Jakie mamy rozwiązanie?
Biorąc pod uwagę obecną rzeczywistość nigdy wcześniej nie było tak ważne, aby posiadać inwestycje w aktywach na giełdzie!
W dzisiejszych czasach może to być jedyne możliwe wyjście dla osób, które chcą, aby ich oszczędności były opłacalne, unikając przy tym erozji wartości pieniądza.
Ale co zrobić, gdy ktoś nie ma doświadczenia w inwestowaniu?
Inwestowanie wcale nie musi być trudne.Oczywiście aby osiągać wyniki wyższe od wyników giełdy jako całości, trzeba mieć niemałe doświadczenie. Ale jeśli zadowolimy się wynikami takimi samymi jakie osiąga giełda…sprawa wygląda już znacznie prościej!
Spójrzmy na fundusze ETF
Fundusz ETF odwzorowywuje wyniki danego indeksu. Jeśli weźmiemy fundusz, który odwzorowuje wyniki niemieckiego indeksu akcji, nasze wyniki z inwestycji będą oscylowały w ramach wyników indeksu niemieckiego. Przykład.
Załóżmy iż chcemy zainwestować w 30 największych niemieckich spółek. Czyli dla przykładu bierzemy fundusz ETF DAX, fundusz ten odzwierciedla wyniki indeksu DAX, czyli wyniki 30 spółek.
Poniżej wyniki funduszu DAX w porównaniu do Banchmarku jaki jest indeks DAX. Patrząc na wyniki widzimy, iż fundusz bardzo wiernie odwzorowuje wyniki indeksu.

Czyli kupując taki fundusz, wiemy iż wyniki naszej inwestycji będą takie same jak średnie zyski/straty cen 30 najwększych spółek z niemieckiej giełdy.
Na stronie emitenta danego funduszu możemy skonsultować, jakie akcje i w jakiej wadze wchodzą w skład funduszu, mamy to w zakładce Fund Holdings, widok poniżej: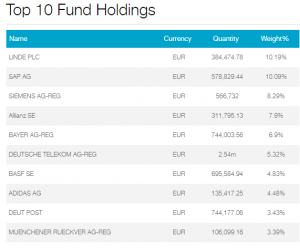 źródło: www.lyxor.co.uk
Na stronie emitenta widzimy także takie kwestie jak na przykład roczna prowizja za zarządzanie, dla tego funduszu wynosi ona 0,15%, prowizja ta jest już wliczona w cenę jednostek funduszu.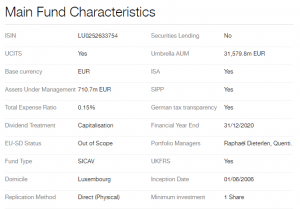 źródło: www.lyxor.co.uk
Po co inwestować na giełdzie na czasach zerowych stóp procentowych?
Odpowiedź na to pytanie jest niemalże zawarta w pytaniu. Skoro depozyty już nie posiadają oprocentowania, a nawet jest to oprocentowanie ujemne. Osoby posiadające oszczędności, są nijako zmuszeni do poszukiwania innych rozwiązać celem zachowania siły nabywczej swojego kapitału.
Rozpocznij inwestycje w DIF: