COVID-19: Eliminacja gotówki?
W ostatnich tygodniach, po raz pierwszy w Europie, hiszpańska socjalistyczna partia, zaproponowała wycofanie fizycznej gotówki News, jeśli takie projekty zostaną zatwierdzone, nie będziemy już posiadać banknotów, ani monet w swoim portfelu. Wszystkie transkacje pomiędzy firmami oraz pomiędzy osobami fizycznymi stałyby się cyfrowe.
Styl oszukiwania społeczeństwa jest zawsze taki sam. W pierwszej fazie EBC zachowuje się jak przyjaciel społeczeństwa, ostrzegając o naruszeniu traktatów Unii Europejskiej, które narusza taki wniosek. Jednakże cel jest osiągięty, czyli sprawdzenie odporności społeczeństwa na taką koncepcję. Jeśli nie będzie głosów sprzeciwu,będzie jasne, że eliminacja fizycznych pieniędzy, stanie się rzeczywistością w perspektywie średniterminowej.
COVID -19 i eliminacja gotówki
Dramatyczna sytuacja w jakiej znajdują się rządy oraz banki komercyjne, szczególnie po kryzysie Covid-19, nie pozwala na inne rozwiązania.
W latach 1961-1974 wskaźnik produktu krajowego brutto był wyższy od wskaźnika zadłużenia, był to stasunek 12% do 10%. Od tego czasu, nominalny wzrost długu publicznego jest zawsze większy niż PKB. Pomiędzy latami 1974-1999 relacja ta wynosiła 17% do 24%, 1999 – 2020 3% do 7%.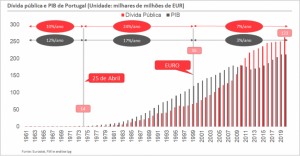 Wraz z decyzją zatrzymania gospodarki, sytuacja stała się dramatyczna. Szacunkowe wyliczenia wskazują iż aktualnie dług publiczny będzie stanowić 150% PKB, co jest bliskie absurdu!
Co ciekawe, żaden program telewizyjny, żadne źródło wiadomości głónego nurtu, nie chce komentować ani omawiać tej sytuacji.
Kolejnym problemem powiązanym z aktualnym kryzysem Covid-19  jest niewypłacalność banków.
Obecnie cały ich bilans jest praktycznie długiem, którego większa część składa się z depozytów klientów: moje i twoje pieniądze!
Aby zobrazować sytuację spojrzmy na grafikę poniżej. Zobaczmy sytuację Deutche Banku. Bank ten posiada 1 298 bilionów EUR, podczas gdy wartość aktywów wynosi 1,1 bilionów EUR.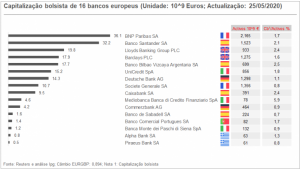 To jest tak samo, jeśli ktoś zaczałby  biznes z kwotą 100 EUR i zainwestowałby jedynie 1 EUR, a pozostałe 99 EUR pozyskałby z długu. Jeśli wartość aktywów spadłaby o 2%, z 100 do 98 EUR, oznaczałoby iż firma jest niewypłacalna, ponieważ jej likwidacja nie pozwoli na spłatę wierzycieli.
Osoby które zdeponowały pieniędze w bankach nigdy nie żądają zwrotu swoich pieniędzy i właśnie dlatego jeszcze wszystko działa. Banki choć są niewypłacalne w dalszym ciągu utrzymują swoją działalność.
Choć w czasie paniki i masowym wycofywaniu gotówki, sytuacja nie byłaby już tak oczywista.
Więc jakie jest najlepsze wyjście z tego probelmu, zarówno dla rządów jak i  banków?
Eliminacja fizycznego pieniądza, eliminacja gotówki
Takie rozwiązanie problem, rozwiąże od razu kilka kwestii:
Uniemożliwienie run na banki, jako iż jest to reale zagrożenie dla banków, grożące ich upadkiem;
Uczynienie możliwą dalszą obsługę zadłużenia, czyli umożliwienie dalszego funkcjonowania aktualnego modelu, wydawania i nielimitowanego zadłużania, połączonego ze wzrostem podatków.
W przypadku jakiejkolwiek sytuacji "braku zaufania" w stosunku do określonego banku, saldo można przenieść tylko do innego banku. W takim przypadku władze zawsze będą sponsorować najpotężniejsze instytucje, powodując upadek najmniejszych, powodując przenoszenie salda z małych banków do dużych. Innymi słowy, większa koncentracja na dużych, coraz potężniejszych bankach i niemożność porzucenia całego systemu, biorąc pod uwagę, że pieniędzy nigdy nie można wycofać z systemu.
Będąc zobowiązanym do posiadania salda w dowolnym banku w systemie, łatwiej będzie zmusić deponentów do poniesienia strat w przypadku problemów danego banku. Wyobraź sobie, że pewien bank jest zagrożony upadkiem, władze decydują, że powyżej, na przykład, 100 tysięcy euro, deponenci tracą pieniądze, uniemożliwiając rządom przetrwanie takiej sytuacji.
Eliminacja fizycznego pieniądza, umożliwie wprowadzenie nagatywnych stop procentowych. W ten sposób obywatele będą zmuszeni płacić bankom, czyli posiadanie oszczędności to będzie kosztowna zabawa. Łatwość praktykowania ujemnych stóp procentowych pozwoli rządom zyskiwać na swoim zadłużeniu. Będzie to ogromną zachętą, aby rządy zadłużały się jeszcze bardziej, skoro będą mogły na tym zarabiać!
Ostatnią ważną zaletą dla rządów przemawiąjącą za eliminacją gotówki jest całkowita eliminacja prywatności. Transakcje gotówkowe pozwalają na zachowanie anonimowości, transkacje elektroniczne już nie.
Wszystko to w imię naszego dobra: walki z terroryzmem, przestępczością, równości i ogólnego  dobra.
Koniec fizycznego pieniądza, będzie ostatnim krokiem, w celu całkowitemu eliminacji prywatności. Kryzys Covid-19 jest czynnikiem, który tylko ten proces przyspiesza.