Spółki dywidendowe: wprowadzenie
Wielu inwestorów długoterminowych posiada w swoim portfelu spółki, które regularnie dzielą się swoim zyskiem z inwestorami, czyli wypłacają dywidendy. Perspektywa otrzymania dywidendy, jest bardzo kusząca z punktu widzenia inwestora. W tym artykule dowiesz się podstawowych kwestii związanych z inwestowaniem w spółki dywidendowe.
Dla kogo jest inwestowanie w spółki dywidendowe?
Generalnie dywidendy leżą w polu zainteresowań inwestorów długoterminowych. Dobrze dobrane spółki dywidendowe, w długim terminie, pozwalają zarobić nie tylko na wzroście cen akcji, ale także na  regularnie otrzymywanych dywidendach.
Czym jest dywidenda?
Dywidenda to podział zysku netto spółki, który jest wypłacany akcjonariuszom zgodnie z uchwałą walnego zgromadzenia akcjonariuszy. Dywidendy są ustalane przez zarząd spółki i muszą być zatwierdzone przez akcjonariuszy poprzez ich prawa głosu. Dywidendy mogą być wypłacane w formie: gotówki lub akcji, chociaż najczęściej występują dywidendy pieniężne. Nie tylko spółki wypłacają dywidendy, fundusze notowane na giełdzie, czyli funduze ETF, również wypłacają dywidendy.
Podstawy dywidendy
Dywidenda jest symboliczną nagrodą wypłacana akcjonariuszom za ich inwestycję w spółkę. Większa część zysków w firmie zostanie wykorzystana na bieżącą i przyszłą działalność firmy, pozostała część może zostać podzielona między akcjonariuszy w formie dywidendy. 
Ważne daty dla dywidendy
Declaration Date
Data deklaracji jest datą, w której zarząd ogłasza i zatwierdza wypłatę dywidendy. Zostaje ogłoszona wielkość wypłacanej dywidendy oraz określona data nabycia praw do dywidendy i data jej wypłaty.
Ex – Dividend Date            
Data Ex dywidendy to pierwszy dzień, w którym akcje są notowane bez dywidendy. Firma nie określa daty ex-dywidendy – datę ex-dywidendy ustala giełda papierów wartościowych, na której notowane są akcje danej spółki. Data ex -dywidendy zazwyczaj występuje do trzech dni przed datą Record Date. Nabywający akcje w dniu lub po dacie dywidendy nie są uprawnieni do dywidendy.
Record Date
Data zapisu, to data, w której akcje inwestora muszą znaleźć się w księgach spółki, aby otrzymać dywidendę.
Data zapisu jest często mylona z datą ex-dywidendy. Przypomnijmy, że datę dywidendy ustala spółka, a datę ex-dywidendy ustala giełda papierów wartościowych. Data byłej dywidendy jest wcześniejsza niż data rekordu z uwagi na fakt, że istnieje okres rozliczeniowy dla transakcji giełdowych.
Kiedy inwestor kupuje akcje na giełdzie, aktualizacja informacji inwestora w księgach spółki wymaga czasu. Większość produktów finansowych w Ameryce Północnej ma okres rozliczeniowy T + 2. Innymi słowy, zawarcie transakcji giełdowej zajmuje dwa dni robocze na pełne zaksięgowanie.
Payment Date
Datą wypłaty jest dzień wypłaty dywidendy dla akcjonariuszy. Dywidendy są księgowane na koncie inwestora netto, już po zapłaceniu podatku u źródła. Więcej na ten temat w osobnym artykule: Podatek od dywidendy.
Forma wypłaty dywidendy i reinwestowanie
Dywidenda może być wypłacana w gotówce i jest wtedy księgowana na koncie maklerskim, bądź może być wypłacana w formie dodatkowych akcji. Warto zaznaczyć, iż gdy jest wypłacana w formie akcji, nie jest pobierana prowizja za otwarcie transakcji.
Gdy emitent akcji daje taką możliwość, Klienci DIF mają wybór w jakiej formie chcą otrzymać dywidendę czy w formie gotówki, czy w formie akcji. Tuż przed wypłatą dywidendy, DIF wysyła wtedy Klientowi, który jest uprawniony do otrzymanie dywidendy, e-mail, w którym informujemy do kiedy należy dokonać wyboru. Wyboru dokonuje się z poziomu platformy: Dodaj Moduł- Rachunek – Inne i tam należy wybrać Wydarzenie zwiazane z działalnością firmy.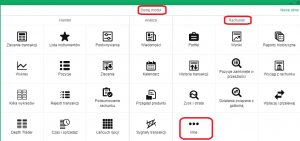 Spółki dywidendowe
Warto rozważyć inwestowanie w spółki dywidendowe. Możemy nazwać spółkę dywidendową przedsiębiorstwa, które regularnie dzielą się ze swoimi akcjonariuszami wypracowanymi zyskami. Regularne wypłaty to nie tylko stałe źródło dochodów dla inwestorów, ale również potwierdzenie dobrej kondycji przedsiębiorstwa i jego ugruntowanej pozycji na rynku.
Dywidendy w DIF mają 15% podatku od akcji i ETF z USA
Dywidendy w DIF księgowane są netto, czyli już po opłaceniu tak zwanego podatku u źródła. Dzięki formularzowi W8, w DIF Klienci płacą jedynie 15% podatek od akcji i ETF z gieł amerykańskich, podczas gdy w większości, lub nawet wszystich brokerów w Polsce jest to podatke w wysokości 30%.
Czytaj podobne:
Zapraszamy do otwarcia konta maklerskiego w DIF: