Podatek od dywidendy
Podatek od dywidendy jest kwestią, która przysparza sporo pytań i wątpliwości dla inwestorów inwestujących w akcje oraz fundusze ETF, które także wypłacają dywidendę. DIF Broker udostępnia możliwość inwestowania na wszystkich giełdach świata. Podatek od dywidendy jest podatkiem pobieranym u źródła. Co to oznacza?
Podatek od dywidendy: podatek pobierany u źródła
Podatek od dywidendy pobierany jest automatycznie w kraju, gdzie spółka emintująca akcje ma swoją siedzibę. Czyli dywidendy są księgowane na koncie maklerskim inwestora, już netto, czyli po opłaceniu podatku od wywidendy.
Obniżony podatek od dywidendy
W domu maklerskim DIF Broker,inwestorzy płacą obniżony podatek od dywidendy dla amerykańskich akcji i funduszy ETF. Jeśli spółka emitująca akcje lub fundusz ETF, ma siedzibę w Stanach Zjednoczonych, podatek który pobierany jest u źródła, wynosi dla naszych Klientów 15%. Jest to podatek obniżony, dzięki formularzowi rezydenchi podatkowej W8, który jest integralną częścią formularza otwarcia konta w DIF Broker. Dla porównania dla, obywateli amerykańskich podatek od dywidend jest pobieranay w wysokości 30% oraz także 30% płacą także polscy inwestorzy jeśli broker nie wykorzystuje formularza W8.
Wielkość zapłaconego podatku będzie widoczna w miesięcznym wyciągu z konta maklerskiego oraz w zestawieniu rocznym. Tak jak pokazane na przykładach poniżej (kliknij, aby powiększyć zdjęcie):


Słowo uwagi, w Polsce obowiązuje podatek od dywidend w wysokości 19%, więc pozostałe 4% inwestor powinien zapłacić w polskim urzędzie skarbowym.
Forma wypłaty dywidendy
Dywidendy mogą być otrzymywane w gotówce na konto maklerskie lub w formie dodatkowych akcji.  Warto zaznaczyć, iż gdy jest wypłacana w formie akcji, nie jest pobierana prowizja za otwarcie transakcji.
Inwestorzy w DIF mają wybór w jakiej formie chcą otrzymać dywidendę czy w formie gotówki, czy w formie akcji. Tuż przed wypłatą dywidendy, DIF wysyła Klientowi, który jest uprawniony do otrzymanie dywidendy, e-mail, w którym informujemy do kiedy należy dokonac wyboru. Wyboru dokonuje się z poziomu platformy: Dodaj Moduł- Rachunek – Inne i tam należy wybrać Wydarzenie zwiazane z działalnością firmy.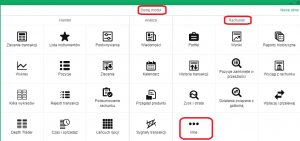 Inwestorzy na platformie dokonują wyboru w jakiej formie chcą otrzymać wypłatę dywidendy: czy w gotówce czy w akcjach. Jeden w wyborów jest zawsze Default, czyli Automatyczny, co oznacza iż jeśli inwestor nie dokona żadengo wybóru, zostanie wypłacona dywidenda w formie Default.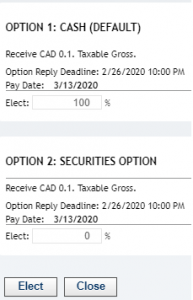 Podatki od zysków kapitałowych
Osobną kwestią są rozliczenie z podatku z zysków i strat z zamknietych inwestycji. W tym przypadku, zyski księgowane są w całości dla koncie inwestycyjnym i to do obowiązkuów inwestora, należy rozliczyć się ze swoim urzedem skarbowym z podatku od zysków kapitałowych. DIF ułatwia swoim Klientom tą czynność, wysyłając roczne zestawienie, gdzie w szczegółowy sposób rozliczone są wszystkie inwestycje. Czytaj więcej: Podatek od zysków kapitałowych.
Czytaj powiązane: