Utrata siły nabywczej dolara na przestrzeni ostatnich 100 lat.dolr, cena dolara, słaby dolar
Wszyscy zapewne słyszeliśmy, iż dawno temu za jednego dolara, można było przeżyć cały dzień, czy inne tego typu porównania. W każdym razie wszyscy wiemy, iż dolar, wiele lat temu był dużo więcej warty niż jest warty dziś. Spójrzmy zatem czarno na białym jak bardzo 1 USD stracił na wartości przez ostatnie 100 lat.
FED System Rezerwy Federalnej, czyli amerykański bank centralny, został utworzony 23 grudnia 1913 roku, w ten sposób rozpoczął się system banków centralnych. Od czasu utworzenia FED dolar utracił aż 96% swojej siły nabywczej.
Aby zobrazować utratę siły nabywczej dolara na przestrzeni ostatniego wieku, skierujmy się do źródła, czyli na stronę FRED Federal Reserve Bank of St Louise. Poniżej obrazowana ilustracja przedstawiająca utratę siły nabywczej dolara licząc od 1913 roku. Dzięki takiemu spojrzeniu, widzimy jak inflacja mierzona za pomocą indeksu dóbr konsumpcyjnych: Consumer Price Index obniżyła wartość nabywczą dolara na przestrzeni ostatniego wieku.
Graficzna ilustracja utraty siły nabywczej amerykańskiego dolara

źródło: FRED Federal Reserve Bank
Do zapamiętania:
100 USD w 1913 ma dziś siłę nabywczą taką jak obecne 3,84 USD. Czyli utrata siły nabywczej sięga w tym momencie 96%!
Pomimo, iż od 1913 roku dolar miał okresy umacniania swojej siły nabywczej, nigdy nie przekroczył wartości sprzed 1913.
Inflacja, która powoduje utratę siły nabywczej każdej waluty jest zjawiskiem pożądanym przez banki centralne, gwarantując stały wzrost gospodarczy.
Dodruk walut na masową skalę powoduje spadek siły nabywczej waluty.
Przelicz sam – Kalkulator online
Warto samemu sprawdzić wartość nabywczą dolara na przestrzeni ostaniego wieku korzystając z kalkulatora online dostępnego na stronie Bureau of Labor Statistics' CPI Inflation Calculator. Obliczenia te są oparte o inflacje obliczaną w oparciu o indeks Consumer Price Index dla wszystkich dóbr konsumpcyjnych.
Patrząc na te statystyczne, oficjalne dane widzimy w porażający wręcz sposób jak bardzo pieniądz traci siłę nabywczą na przestrzeni dzisiątek lat.
Na przestrzeni dekady dolar utracił 96% swojej siły nabywczej.
100 usd z 1913 roku, dziś posiada wartość nabywczą odpowiadającą dzisjeszym 3,84 USD. Jeśli przechowujemy oszczędności w gotówce, pozwalamy na to, aby inflacja pochłaniała nasze oszczędności. 
1913….100 usd
1920…51,30 usd
1930… 57,89 usd
1940…71,22 usd
1950…42,13 usd
1970… 26,19 usd
1980…12,72 usd
1990…7,77 usd
2000…5,86 usd
2020…3,84 usd
Czym jest inflacja
Inflacja jest to proces wzrostu cen dóbr i usług na przestrzeni czasu. Jako iż ceny rosną, ilość dóbr i usług jakie możesz kupić maleje wraz z biegiem czasu. Czytając oficjane definicje czym jest inflacja, można wysnuć wniosek, iż inflacja jest czymś niespodziewanym, niepożądanych, lecz tak wcale nie jest. Bank centralne planują inflację, zakładając procent inflacji na najbliższy rok, ma to zapewnić stały wzrost gospodarczy.
Na skutek celowej i planowanej inflacji drożeją wszystkie aktywa, także aktywa inwestycyjne typu akcje, nieruchomości czy metale szlachetne. Dzieje się tak nie tyle na skutek tego, iż aktywa te są warte więcej, tylko iż pieniądz jest warty mniej.
Wiemy już, iż waluty tracą swoją wartość na przestrzeni czasu. Sprawdźmy zatem czy złoto utrzymuje swoją wartośc nabywczą. Poniżej wykres z platformy DIF Broker funduszu na złoto GLD. Od 2004 cena funduszu zyskała na wartości 400%!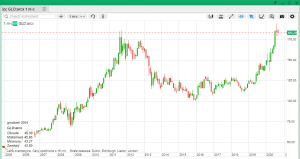 Licząc z kolei w uncjach to w 1973 roku uncja złota kosztowała 63 USD, dziś za uncję złota musimy zaplacić 1 937 USD, wzrost rzędu 2950%.
Wnioski nasuwają się same. 
W długim okresie czasu, przechowywanie oszczędności w gotówce jest gwarancją straty. Strata ta nie jest widoczna na pierwszy rzut oka, bo jeśli 20 lat temu posiadaliśmy 10 000 USD, dzisiaj dalej posiadamy 10 000 USD. Można ulec złudzeniu, iż nie straciliśmy. Lecz przez te dwadzieścia lat zdrożały ceny nieruchomości, zdrożały ceny akcji oraz ceny metali szlachetnych. Czyli de facto nasze 10 000 usd jest warte dziś mniej niż było warte na początku.
Do odważnych świat należy
Rozpoczynając inwestowanie na giełdzie, nasze inwestycje wystawione są na zmienność cen, każdego dnia ceny ulegają zmianom. Lecz mając uwagę długi termin inwestycji, który jest zabezpieczeniam przez inflacją, z czasem aktywa zyskują na wartości. Dobrym pomysłem w celu obniżenia ryzka jest dywersyfikacja, czyli inwestowanie małego procentu swoich oszczęsności w różne aktywa inwestycyjne.