S&P500: cały czas ponad linią trendu wzrostowego
Być może jak dym opadnie, zobaczymy, iż było to całkiem proste. Klasycznie przyjmuje się, iż rozpoczyna się bessa na giełdzie, kiedy ceny akcji stracą na wartości więcej niż 20%. Lecz nikt nie mówi, iż notowania odeszły od linii trendu wzrostowego 25%! Notowania amerykańskiego indeksu w dalszym ciągu znajdują się ponad linią trendu wzrostowego, oraz ponad średnią 50 SMA!
Takża zanim poddamy się totalnej panice, która jest bardziej zaraźliwa niż sam koronawirus, pamiętajmy o tym fakcie. Niezapominajmy, iż takie wydarzenia stwarzają okazje inwestycyjne. Panika związana w wirusem może bardzo szybko zniknąć i warto, o tym pamiętać. Wszystko zapisane jest w cenie, tak mówi zawsze analiza techniczna.
Czysto z punktu widzenia analizy technicznej można to rozgrywać z niższych interwałów czasowych. Mając na uwadze silny poziom wsparcia na którym aktualnie znajduje się indeks. Widzimy iż indeks odbija od linii trendu wzrostowego, która dotuje swój początek w dołku z 2009 roku.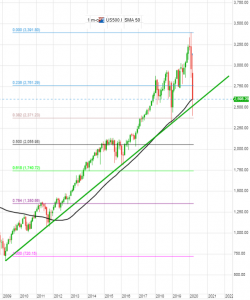 Czyli, jest prawdopodobne, iż spadki zostaną przynajmniej czasowo, zatrzymane na tym poziomie. Mówiąc dokładnie, tak już się stało, notowania już w tym momencie odbijają od tego poziomu.
Dodatkowo, notowania SP500 zeszły także w okolice poziomu 38 Fibanacciego oraz poziom dołka z grudnia 2018, co także tworzy naturalny poziom wsparcia dla ceny.
Ograniczaj ryzyko
Operując z niższych interwałów czasowych, daje to nam przewagę w ograniczaniu ryzka inwestycyjnego. Możemy ustawić zlecenie obronne stop loss dość precyzyjnie.  Poniżej wykres indeksu SP500 w interwale 1H. Widzimy iż notowania mają korektę wzrostową i znalazły się ponad średnią 10 SMA.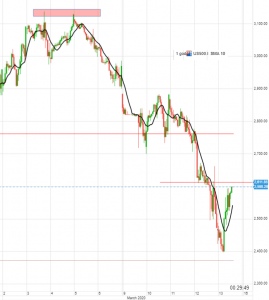 Aktualnie ceny dochodzą do poziomu oporu 2 612 USD, który jest poziomem, gdzie notowania futures zostały po raz drugi czasowo zawieszone. Jest to ważny poziom oporu dla dalszych wzrostów.
Dobrze jest obserwować jak notowania będą się zachowywać wokół tego poziomu. Jeśli zostanie on sforsowany otworzy to droge do dalszych wzrostów do kolejnego poziomu oporu na poziomie 2 814 USD.
Jedno jest pewne, nie dajmy się zarazić wirusem STRACHU!
Czytaj podobne: Koronawirus, jak nie stracić głowy?