Koronawirus, jak nie stracić głowy?
Na świecie mamy aktualnie absolutną panikę spowodowaną koronawirus. Na giełdzie spadki w bardzo szybkim czasie, przekroczyły 20%. Inwestorzy przez czas ostatniej hossy na giełdzie amerykańskiej CZEKALI na takie okazje. Lecz gdy przyszła już oczekiwana bessa, czy będą potrafili ją wykorzystać?
Z technicznego punktu widzenia akcje są po spadkach przekraczających 20% lecz nie widać oznak, iż poziom dna został już osiągnięty. Mierząc całą ostatnią dekadę hossy od 2009 roku, znajdujemy się teraz na poziomie spadków równym 23%.
Wykres SPDR S&P 500 ETF Trust, ticker SPY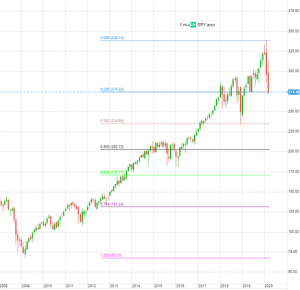 Na wykresie powyżej wskaźnik Zniesienie Fibonacciego, 23% jest także liczbą Fibonacciego. W klasycznej analizie jako poziom wsparcia dla spadków służy poziom 38% oraz 50%. Poziom 38% jest to równocześnie poziom dołka z grudnia 2018, czyli ostatniej większej korekty.
Z kolei poziom 50% jest to poziom, kiedy Donald Trump został amerykańskim prezydentem.
Także jeśli spadki będą kontynuowane, mamy zaznaczone ważne poziomy wsparcia, warte obserwacji dla zajęcia długich pozycji, z  myślą o inwestowaniu długoterminowym.
Day Trading
Poniżej wykres indesku SP500, wykres godzinny, gdzie widzimy zapis zmiany notowań z ostatnich tygodni. Aktualnie notowania znajdują się poniżej kluczowego poziomu oporu, zanznaczonego na wykresie na poziomie 2 815 USD, oraz średnia ruchoma jest wyraźnie nachylona w dół. W takim układzie inwestowanie zgodnie z trendem podpowiada szukania wejścia w krótkie pozycje i poszukiwanie zarabiania na spadkach.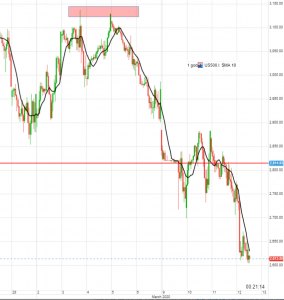 Podsumowanie
Jak nie stracić głowy i wykorzystać aktualną bessę na giełdzie? Poniżej trzy propozycje.
Inwestowanie długoterminowe
Do kupowania akcji po przecenionych cenach z myślą o trzymaniu ich na dziesiątki lat, wydaje się jeszcze przedwcześnie, musimy poczekać, aż pojawi się nowy popyt. Czyli nie trzeba tracić głowy, tylko być przygotowanym do zajęcia pozycji, kiedy przyjdzie na to czas, nie zważając na panikę i opinię, iż gospodarka się załamie i to już koniec świata. Właśnie takie momenty tworzą okazje! Czytaj: Bessa to wyprzedaż garażowa, dla ludzi co mają pieniądze
Czy to czas na obligacje?
Pojawiły się okazje na rynku obligacji olbrzymich korporacji, których ceny w ostatnim czasie są notowana znacznie poniżej ceny emisyjnej. Obligacje z dużej mierze są dostępne w DIF offline i po zakupie pojawiają się na koncie inwestycyjnym na platformie, tak jak inne inwestycje. Kliencie zainteresowani proszeni są o bezpośredni kontakt z DIF.
Day Trading
Amerykański indeks jest w średnim terminie w silnym trendzie spadkowym. Zawsze spadki sa silniejsze od wzrostów, także zmianność jest tym co day -traderzy najbardziej poszukują.
Zapraszam do widoe analiz jakie są wysyłane Klientom w każdy wtorek i czwartek i są także, od czasu do czasu, dostępne na naszym kanale You Tube. Gdzie poruszane jest zarówno inwestowanie w długim terminie jak i trading.