Konto Wspólne w DIF Broker
W DIF Broker masz możliwość otwarcia Konta Wspólnego z bliską Ci osobą.
Konto Wspólne to konto dla dwóch osób, w którym każdy właściciel ma uprawnienia do obsługi konta bez konieczności autoryzacji drugiej strony.
Możliwe dla małżeństwa, rodzeństwa, rodzica z dzieckiem.
Wymagania do otwarcia Konta Wspólnego:
– wspólne konto bankowe lub konto, do którego obie osoby mają uprawnienia,
– minimalny depozyt poczatkowy: 10 000 EUR lub równowartość w innej walucie.
Procedura otwarcia Konta Wspólnego:
Obie osoby samodzielnie przystępują do wypełnienia formularza otwarcia Konta Wspólnego.
Jedna z osób musi zostać zdefiniowana jako główny właścicel konta.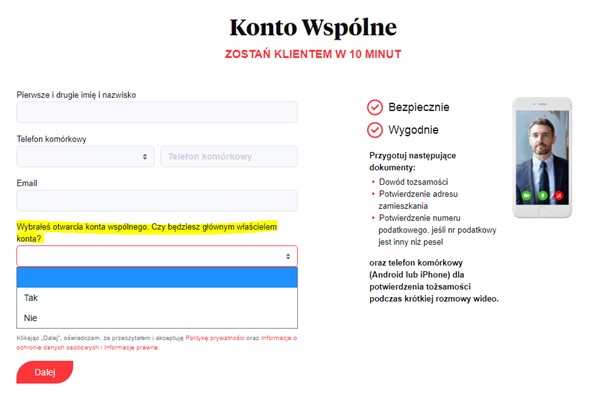 Osoba, która zostanie głównym właścicielem, po wypełnieniu formularza otrzyma na e-mail specjalny link do udostępnienia go drugiej osobie. Gdy druga osoba kliknie w ten link, to automatycznie zostanie przeniesiona do formularza otwarcia Konta Wspólnego – system automatycznie połączy dwie osoby w procesie.
Alternatywnie druga osoba może przejść do formularza otwarcia Konta Wspólnego i wybrać opcje NIE w pytaniu, czy chce zostać głównym właścielem konta. Wtedy zostanie poproszona o podanie klucza głównego właściela konta, który również został mu wysłany w tym samym e-mailu co wcześniej wspomniany link.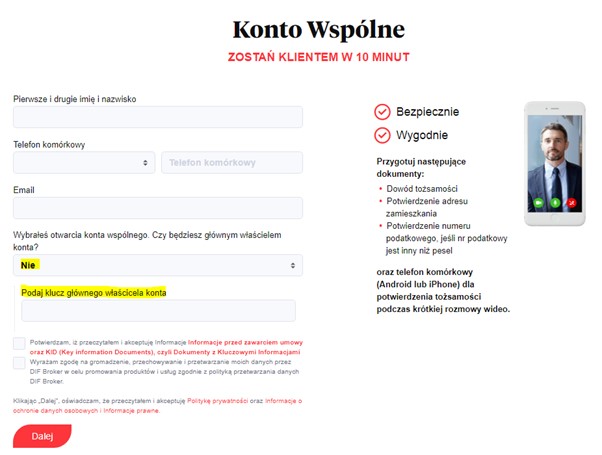 Jakie dokumenty są potrzebne do otwarcia Konta Wspólnego?
W trakcie wypełniania formularza będzie możliwość dołącznia w bezpieczny sposób wymaganych załączników. To, co będzie potrzebne to:
skan/zdjęcie dowodu tożsamości (dowód osobisty bądź paszport)
potwierdzenie adresu: jeden z wymionionych dokumentów
np. nie starszy, niż 6 miesięcy:
– rachunek za media/telefon/gaz/internet itp.
– wyciag z banku lub potwierdzenie przelewu,
– pismo z urzędu np. potwierdzenie zameldowania.
* w pewnych przypadkach: potwierdzenie numeru podatkowego, jeśli nr jest inny niż PESEL lub NIP
* w pewnych przypadkach potwierdzenie zatrudnienia.
Po wypełnieniu formularzy przez obie osoby, personel DIF Broker weryfukuje je i w razie dodatkowych pytań, czy wątpliwości kontaktuje się telefonicznie lub e-mailowo.
W przypadku braku dodatkowych pytań ze strony DIF Broker, obie osoby otrzymają e-maile z dalszymi krokami.
Dalsze kroki w procesie otwarcia Konta Wspólnego nie różnią się od procesu założenia Konta Indywidualnego. Pozostaje zatem jeszcze Potwierdzenie tożsamości w wideo rozmowie przez każdą z osób oraz Podpisanie odpowiednich dokumentów, wysłanych emailem również oddzielnie dla każdej z osób.
Dokładniejszy opis tych kroków procesu opisany został w artykule znajdującym się tutaj.
Po potwierdzeniu tożsamości oraz otrzymaniu podpisanych dokumentów od obu właścicieli konta, konto zostaje przekazane do otwarcia.
Po otwarciu Konta Wspólnego, każdy z właścicieli otrzyma na e-mail oddzielne dane do logowania.
Rozliczenie podatkowe dla Konta Wspólnego
W DIF Broker inwestorzy rozliczają się samodzielnie na podstawie zestawienia zysków i strat, które DIF wysyła na email w okresie rozliczeń podatkowych.
W przypadku Konta Wspólnego Sprawozdanie finansowe z tymi samymi wartościami (ogółem) wysyłane jest dla każdego z właścicieli rachunku. Na końcu Sprawozdania pojawia się lista właścicieli rachunku.
Do właścicieli rachunku należy dokonanie podziału zysków do rozliczenia.