Jak przejść z Konta DEMO do Konta RZECZYWISTEGO?
Konto DEMO i konto RZECZYWISTE (LIVE) pomimo, że są takie same, działają jako dwa odrębne konta. Dlatego możesz posiadać oba konta jako aktywne w tym samym czasie. Dzięki czemu nie tracisz możliwości testowania platformy, czy strategii inwestycyjnych.
Do każdych z tych kont jest oddzielny sposób logowania. Wystarczy jedynie wybrać odpowiedni przycisk DEMO lub LIVE i wpisać odpowiednie dane do logowania.
Ze względu na to, że konta są takie same, zaleca się aby dla bezpieczeństwa z każdego z tych kont korzystać z innej przeglądarki lub dokładnie upewniać się czy wykonywana transakcja jest realizowana z odpowiedniego konta.
Jak otworzyć konto rzeczywiste?
Otwarcie konta odbywa się w 100% online. I składa się z następujących kroków:
rejestracja online tutaj
kilkuminutowa rozmowa wideo dla potwierdzenia tożsamości
podpisanie dokumentów
zasilenie konta i rozpoczęcie inwestycji
Ad. 1 Rejestracja online
Przed przystąpieniem do formularza, będziesz musiał wybrać jaki rodzaj konta chciałbyś otworzyć: indywidualne, wspólne, firmowe bądź zostać upoważnionym do istniejącego już konta. Charakterystyki dla każdego typu z kont, znajdują się na poniższej grafice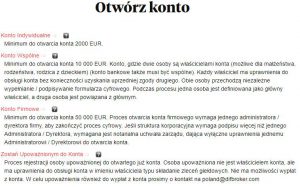 Po dokonaniu wyboru zostaniesz przeniesiony na stronę z formularzem do wypełnienia.
Jakie dokumenty są potrzebne do otwarcia konta?
W trakcie wypełniania formularza będzie możliwość dołącznia w bezpieczny sposób wymaganych załączników. To, co będzie potrzebne to:
skan/zdjęcie dowodu tożsamości (dowód osobisty bądź paszport)
potwierdzenie adresu:
dokument nie starszy niż 6 miesięcy, w formie elektronicznej, skan lub zdjęcie. Jeden z poniższych:
– rachunek np. za: wodę /gaz / elektryczność / telefon/ Internet itp.
– wyciąg z konta bankowego,
– potwierdzenie nadanego przelewu bankowego
*W pewnych przypadkach: potwierdzenie numeru do rozliczenia podatkowego, jeśli jest inny niż PESEL lub zagraniczny.
* w pewnych przypadkach potwierdzenie zatrudnienia.
Ad. 2 Kilkuminutowa rozmowa wideo dla potwierdzenia tożsamości
Po weryfikacji Twojego formularza, otrzymasz email z instrukcjami do przeprowadzenia wideo rozmowy w celu potwierdzenia tożsamości. Ten krok możesz wykonać w wybranym przez siebie momencie w godzinach obsługi, które będą podane w emailu. Rozmowa trwa zaledwie kilka minut, nie trzeba się do niej przygotowywać, wystarczy mieć przy sobie odpowiedni dokument tożsamości, który zarejestrowałeś w formularzu.
Ad. 3 Podpisanie dokumentów
Po pomyślnym potwierdzeniu tożsamości w przeciągu 24 godzin otrzymasz na email link z dokumentami do podpisania. Będziesz mógł złożyć podpis w naszym systemie online, wystarczy zapoznać się z dokumentami i zatwierdzić podpis kliknięciem przycisku a następnie potwierdzić kodem, który zostanie wysłany przez SMS. Nie trzeba dysponoać elektornicznym podpisem, by zrealizować ten krok. Wszystko odbywa się w przygotowanym przez nas systemie.
Ze względów bezpieczeństwa link umożliwiający podpis w naszym systemie jest ważny 24 godziny, nie ma możliwości przedłużenia jego ważności. Jednak w przypadku, gdy potrzebujesz więcej czasu na zapoznanie się z dokumentami, wystarczy, że napiszesz email do poland@difbroker.com z prośbą o wygenerowanie nowego linku, w momencie, gdy już będziesz gotowy do złożenia podpisu. Wtedy Nasz Zespół wyśle Ci na email nowy link, również ważny 24 godziny.
Jak długo trwa otwarcie konta?
Rejestracja online to kilka minut, rozmowa wideo potwierdzająca tożsamość to kolejne kilka minut, elektroniczne podpisanie nadesłanych na email dokumentów odbywa się błyskawicznie za pomocą jednego kliknięcia. Otwarcie konta przez DIF BROKER następuje w przeciągu przeważnie ok. 1-2 dni roboczych. Na email zostaną wysłane dane do logowania oraz dane do przelewów.
Ad. 4 Zasilenie konta i rozpoczęcie inwestycji
Konto jest uruchomione w momencie jego otwarcia. Chcąc rozpocząć inwestycje, należy je zasilić wymaganym, minimalnym depozytem początkowym.
Dla Konta Indywidualnego jest to 2 000 EUR lub równowartość w innej walucie.
Dla Konta Wspólnego jest to 10 000 EUR lub równowartość w innej walucie.
Dla Konta Firmowego jest to 50 000 EUR lub równowartość w innej walucie.
Wpłaconym depozytem możesz dowolnie zarządząć, nie musi on pozostawać jako wolne środki na koncie. Każdy następny przelew na konto możesz realizować w dowolnej kwocie.
Czy mogę mieć kilka kont w DIF BROKER?
Możliwe jest posiadanie konta głównego i otwarcie dla niego subkont w takich walutach jak USD, EUR, GBP, PLN, z tym że na subkoncie również jest wymagany minimalny depozyt początkowy oraz jest ono traktowane jako odzielne konto w odniesieniu do prowizji. W celu otwarcia subkonta prosimy o kontakt emailowy poland@difbroker.com
Posiadając subkonto, bezpośrednio na platformie będziesz mógł podczas składania zlecenia wybrać, z którego konta zlecenie ma zostać zrealizowane.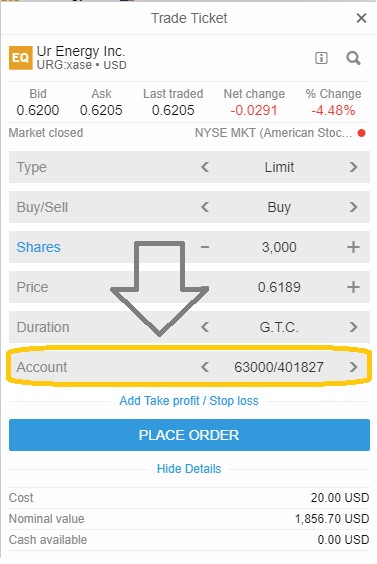 Czy po otwarciu konta mogę liczyć na wsparcie po polsku?
Tak, zarówno przed, w trakcie, jak i po otwarciu konta nasi Klienci mogą kontaktować się ze wsparciem Klienta w języku polskim przez email, telefon lub czat na stronie.
Jak mogę przystapić do otwarcia konta?
Przejdź do formularza otwarcia konta tutaj.