Giełdy na świecie
DIF Broker oferuje dostęp do inwestowania na wszystkich głównych giełdach na świecie. Zdecydowanie największe obroty notowane są na giełdach amerykańskich. Największa koncentracja obrotów znajduje się na giełdzie New York Stock Exchange NYSE notując kapitalizację rynkową przekraczającą 30 trillionów dolarów, na drugim miejscu znajduje się giełda NASDAQ oraz na trzecim miejscu giełda Japonii Japan Exchange Group.
Największe giełdy akcji na świecie
NYSE
New York Stock Exchange jest najwiekszą giełdą akcji na świecie. Sesje giełdowe na giełdzie NYSE odbywają się od poniedziałku do piątku (z wyjątkiem świąt federalnych) w godzinach 15:30–22:00 czasu polskiego i są jednymi z najkrótszych sesji giełdowych na świecie. Giełdę codziennie otwiera ktoś inny, m.in. politycy, celebryci lub gwiazdy show-biznesu.
NASDAQ
Giełda Nasdaq powstała w 1970 roku i została założna przez National Association of Securities Dealers (NASD), teraz znana jako Financial Industry Regulatory Authority (FINRA). Na giełdzie Nasdaq notowane są głównie akcje z sektoru technologii.
Poniżej widok z konta maklerskiego z widokiem wyszukiwania instrumentów zawęrzonym do Akcji notowanych w USD.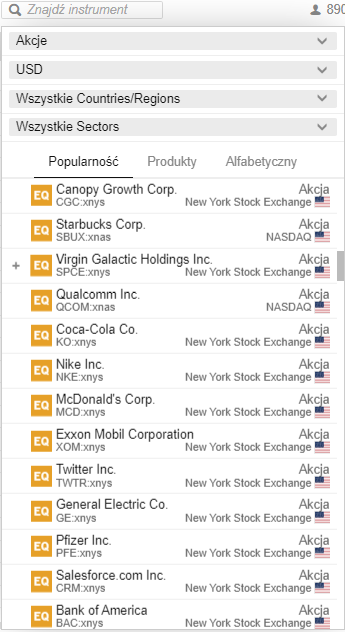 Wymienione powyżej giełdy, są to giełdy gdzie notowane są akcje. Natomiast istnieją także giełdy gdzie notowane są inne instrumenty jak: fundusze ETF, kontrakty futures czy opcje.
Giełda Arca NYSE, największa giełda funduszy ETF
Giełda Arca NYSE to elektroniczna amerykańska giełda papierów wartościowych, na której przedmiotem obrotu są produkty będące przedmiotem obrotu giełdowego (ETP) oraz akcje. Giełda specjalizuje się w ETP (Exchange Traded Products) oraz funduszach notowanych na giełdzie, czyli funduszach ETF. Oprócz składania typowych zleceń, Arca NYSE pozwala inwestorom i traderom uczestniczyć w aukcjach otwierających i zamykających dla ETF-ów. Według danych na marzec 2019 notowanych jest na giełdzie 2238 funduszy ETF.
Poniżej widok z konta maklerskiego DIF, w filtrze zaznaczone ETF i kraj USA.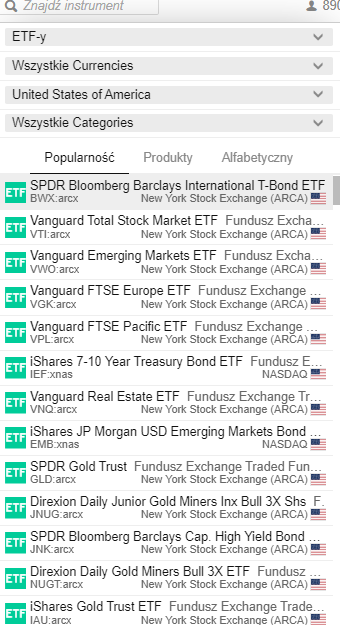 Giełdy na świecie: Kontrakty futures
Istnieją także giełdy gdzie notowane są kontrakty terminowe.
CBOT Chicago Board of Trade założyła założona w 1848 roku.  Jest to najstarsza na świecie giełda kontraktów futures i opcji. Notowane tu są takie surowce jak kukurydza, pszenica, soja, byłdo, benzyna.
CME Chicago Mercantile Exchange jest to amerykańska Giełda towarowa z siedziba w Chicago i została założona w 1898 roku. Na giełdzie CME noptowane są kontrakty futures na akcje, surowce, waluty oraz stopy procentowe.
ICE -NYBOT Intercontinental Exchange amerykańska giełda towarowa, gdzie notowane są kontrakty futures na takie surowce jak kawa, cukier.
NYMEX New York Mercantile Exchange jest giełdą towarową, która stanowi własność CME. NYMEX z kolei podzielony jest na dwie części: NYMEX i COMEX. Na NYMEX notowane s kontrakty takich metali jak Pallad i Platyna. Inne surowce to Gaz Naturalny, Ropa WTI.
COMEX Commodity Exchange
Na giełdzie  COMEX notwane są kontrakty terminowe takich metali jak złoto, srebro oraz miedź.
Poniżej widok z konta maklerskiego, gdzie zaznaczone są Kontrakty Futures.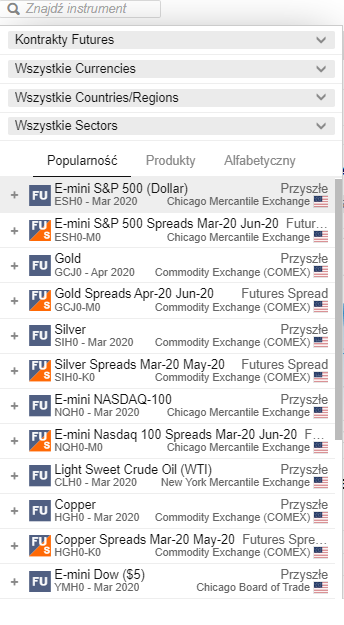 Giełda opcji Options Price Reporting Authority (OPRA)
OPRA jest to giełda amerykańskie gdzie notowana są opcje na akcje. W DIF Broker można kupić opcje CALL i kupić opcje PUT.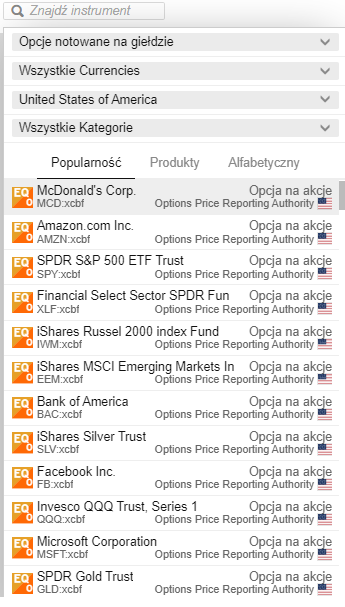 Notowania akcji, funduszy ETF , kontraktów futures oraz opcji są z 15 minutowym opóźnieniem. Na koncie live istnieje możliwość wykupienia subskrypcji cen w czasie rzeczywistym.
Zapraszamy do posyłania propozycji tematu na kojeny artykuł pod poland@difbroker.com.
Czytaj podobne