Zamykanie pozycji
Zamykanie pozycji na platformie DIF jest proste i intuicyjne, ale istniają pewne wyjątki, które przysparzają wątpliwości. Ale zacznijmy od początku.
Zamykanie pozycji, gdy był jeden zakup
Zamykanie inwestycji przebiega tak jak pokazane na zdjęciu poniżej. Po prostu przyciskamy na ZAMKNIJ , wybieramy cenę i zatwierdzamy. Czyli nic prostszego.

Zamykanie pozycji, gdy mamy kilka zakupów
Na zdjęciu poniżej widzimy, iż inwestycja  była zakupiona w dwóch ratach /Otwarte 2/.

Możliwość oddzielnego zamykania każdej pozycji
Poniżej ten sam widok, po rozwinięciu szczegółowych części inwestycji.
Co ważne i co nasi Klienci sobie cenią, to fakt iż do każdej części składowej inwestycji, istnieje możliwość dodania osobnego zlecenie: Take Profit i Stop Loss. Czyli platforma daje możliwość precyzyjnego zarządzania inwestycjami i możliwość osobnego zamykania każdej pozycji.

Możliwość zamknięcia jedną transakcją
Możemy nabyć kilka razy te same akcji i potem zamknąć wszystkie pozycje jednym kliknięciem. Poniżej widok takiego rozwiązania, całościowego zamknięcia wszystkich inwestycji na danym walorze. Po prostu klikany na :ZAMKNIJ.

Po zamknięciu, na rachunku pokaże się nam widok, jak poniżej. Widzimy iż status jest ZAMKNIĘTE.  Prosta sprawa.

CO ZATEM SPRAWIA PROBLEMY?
Ale to co może być dezorientujące, to jeśli rozwiniemy tą pozycję, klikając na + po lewej stronie, wtedy ukaże nam się historzyczne zapisy tego co się już wydarzyło i mamy widok jak poniżej:

Należy pamiętać, iż są to tylko zapisy tego co już się wydarzyło. Były dwie długie pozycje po 100 i została otwarta pozycja krótka /sprzedaży celem zamknięcia całości inwestycji.
Czyli widzimy, iż technicznie zamykanie odbywa się poprzez otwarcie przeciwstawnej pozycji!
Nie ma konieczności, a nawet nie powinno się zamykać tych części składowych. Na następny dzień, pozycje zostaną rozliczone, jest to tak zwany Netting , wszystkie zapisy znikną i gotówka zostaje zaksięgowana.
ROZWIĄZANIE 
Jeśli inwestor, nie chce mieć takiego podglądu, istnieje możliwosć Nettingu w czasie rzeczywistym. W celu włączenia Nettingu w czasie rzeczywistym należy na platformie wybrać Ustawiania:

Wybrać Ustawienia
W ustawieniach istnieje możliwość Włączenia i Wyłączenia Nettingu Pozycji w Czasie rzeczywistym.

Po włączeniu Nettingu w czasie rzeczywistym, zamknięte pozycje będą się znajdować w zakładce: Zamknięte Pozycje.

Można dowolnie przechodzić z obu widoków, aby wybrać, który widok bardziej odpowiada.
CZĘŚCIOWE ZAMYKANIE POZYCJI
Jeśli posiadamy jedną pozycje, to kilkając na ZAMKNIJ istnieje możliwość zamknięcia tylko całości.

po kliknięciu nie można zmniejszyć ilości: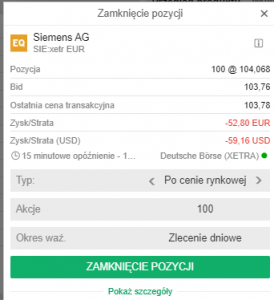 Aby zamknąć część, należy otworzyć nowe zlecenie w przeciwną stronę. Czyli w naszym przykładzie będzie to zlecenie Sprzedaż np. na 50 akcji.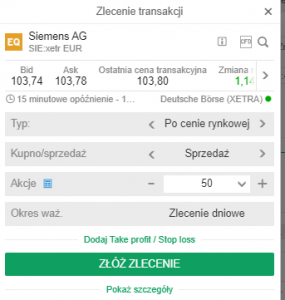 Widok na koncie po sprzedaży 50 sztuk akcji, będzie jak poniżej:

Jak już wiemy, jeśli klikniemy na + będzie widoczna Długa pozycja na 100 i krótka pozycja na 50. Lecz stan rzeczywisty to pierwszy wiersz, będący podsumowaniem i widzimy:  Pozycja Długa 50.
Czyli połowa inwestycji została zamknięta.