Subkonto w DIF Broker
W DIF Broker masz możliwość otwarcia subkonta w takich walutach jak USD, EUR, PLN, GBP.
Subkonto warto otworzyć głównie po to by unikać przewalutowań podczas transakcji lub w przypadku różnych strategii inwestycyjnych.
Jak to działa w praktyce?
Najpierw musisz posiadać otwarte już konto główne, by móc złożyć zlecenie otwarcia subkonta.
Działanie subkont jest identyczne, jak konta głównego. Nie ma, więc żadnych dodatkowych opłat z tytułu otwarcia subkonta.
Konto główne oraz subkonto, są one dostępne na jednej platformie. Podczas składania zleceń, należy wybrać, z którego konta/subkonta ma zostać zrealizowana transakcja (tak, jak poniżej).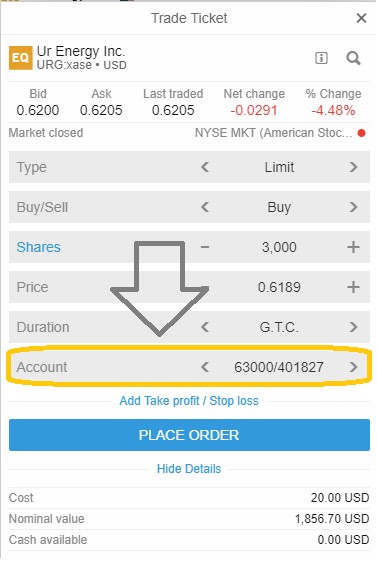 Każde z kont zasila się oddzielnie, wpisując w tytuł emaila odpowiedni numer konta/subkonta.
Jak otworzyć subkonto?
W celu otwarcia subkonta wystarczy podpisać jeden dokument, który otrzymasz od Obsługi Klienta.
Podeślij e-mail na adres poland@difbroker.com, napisz w jakiej walucie/walutach chciałbyś otworzyć subkonto/a.
Czas otwarcia subkonta to zazwyczaj 1-2 dni robocze.
Przelewy wewnętrzne między kontami
Przelewy między kontami/subkontami odbywają się poprzez zlecenia mailowe.
Zlecenie należy wysłać na adres mailowy: poland@difbroker.com
W treści należy podać :
z którego konta ma wyjść przelew (numer konta/subkonta) oraz kwotę przelewu (w walucie tego konta) oraz informacje,  na które konto/subkonto środki mają trafić.
Przewalutowanie odbywa się po kursie FOREX + 0,5% prowizji.
Czas zrealizacji zlecenia łącznie z przewalutowowaniem to około 2 dni robocze.