STOP LOSS kroczący
Posiadając inwestycję na koncie maklerskim istnieje możliwość dodania automatycznego, obronnego zlecenie stop loss. Takie zlecenie ogranicza nasze ewentualne straty, jeśli cena pójdzie w przeciwnym kierunku, aniżeli nasza inwestycja. Jeśli cena dojdzie do wcześniej zdefiniowanego przez nas poziomu zlecenie stop loss, nasza inwestycja zostanie automatycznie zamknięta. Jest to zlecenie, doskonale znane wszystkim inwestorom.
Tu natomiast chciałabym umówić pochodną tego zlecenie a mianowiscie Stop Loss kroczący.  Jak sama nazwa skazuje kroczy on podąża za ceną.
Jak działa stop loss kroczący?
Jeśli inwestycja idzie zgodnie z naszymi oczekiwaniami, to znaczy jeśli np ceny akcji rosną, to poziom naszego zlecenie obronnego stop loss, także rośnie. Skutkuje to tym, iż np. nasze zlecenie stop jest zawsze oddalone o 2% id ceny rynkowej. Jeśli cena spadnie o 2,1% nasza inwestycja zostanie zamknięta.
Ustawienie zlecenie stopu kroczącego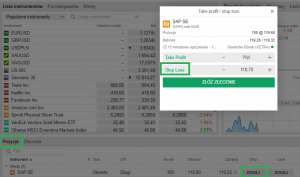 Gdy posiadamy już inwestycję, w kolumnie STOP klikamy na Dodaj i nastepnie klikamy na Stop Loss. Tak jak jest to widoczne na zdjęciu powyżej.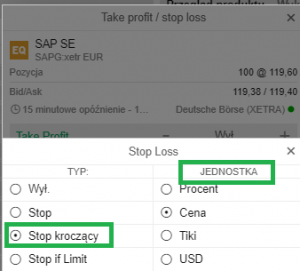 Pokazuje nam się okienko tak jak powyżej. Wybieramy Stop kroczący. I wybieramy jednostkę, w której określimy oddalenie naszego zlecenie od ceny rynkowej. Możemy określić w procentach, wpisać cenę, w tikach lub w USD. Po dokonaniu wyboru zamykamy te okno, x w rórnym prawym rogu.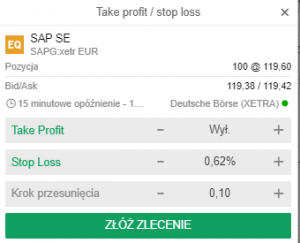 Jeśli wybraliśmy na przykład jednostkę jako procent, mamy widok jak powyżej i możemy ten procent dowolnie zwiększać lub zmniejszać. Mamy tutaj także coś takiego jak Krok przesunięcia jest to wartość, którą określamy, i decyduje ona o tym jak często aktualizowany będzie poziom zlecenia stop loss kroczącego. Czyli musi nastąpić wzrost o 0,10, aby poziom zl;ecenie stop loss także uległ podwyższeniu.

Po złożeniu zlecenie będzie ono widoczne w zakładce Zlecenia i zawsze może zostać ono modyfikowane lub anulowane.