Korekta notowań akcji Tesli, analiza
Trwa korekta dla spółek technologicznych, czy korekta notowań Tesli, stanowi okazję?
Korekta notowań akcji Tesli, analiza
Jeszcze 18 marca 2020 akcje Tesla kosztoway 70,10 USD! Od tego czasu notowania akcji gwatownie wzrosły i osiągnęły swój maksymalny, historyczny poziom przy cenie 900,40 USD i miało to miejsce 25 stycznia tego roku. Czyli w 10 miesięcy licząc od dołka do szczytu akcje Tesli umocniły swoje notowania o zawrotny procent 1000%!
Akcje Tesla, wykres tygodniowy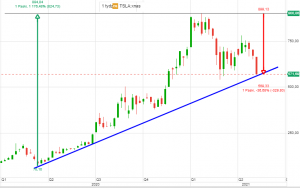 Od czasu szczytu notowań Tesli na poziomie 900 USD, ceny spadły o 36%. Powyżej wykres tygodniowy akcji, gdzie każda świeca obrazuje zmianę notowń, w ramach jednego tygodnia. Dziś mamy piątek, czyli do czwartku, w tym tygodniu notowania straciły -14%.
Tesla wstrzymuje możliwość płatności poprzez Bitcoin
Tylko w dniu wczorajszym akcje Tesli straciły -5% na skutek ogłoszenia przez Elona Musk informacji, iż wstrzymuje możliwość płatności poprzez Bitcoin. Jako powód podaje, iż z ostatnich wiadmości wynika iż przy kopaniu Bitcoin wykorzytstuje się energię.
"Jesteśmy zaniepokojeni gwałtownym wzrostem wykorzystania paliw kopalnych do wydobycia bitcoinów i transakcji, zwłaszcza węgla, który ma najgorszą emisję spośród wszystkich paliw" – napisał Musk.
Wcześniejsze kotekty notowań Tesli
Nie ulegajmy złudzeniu, iż zarabianie na akcjach jakiekolwiek firmy jest łatwe. Notowania ulegają ciągłym zmianom oraz wahaniom. Pojawiają się okresy impulsu, podczas którego notowania zwrastają oraz czasem bardzo długie okresy korekty notowań.
Wykres dzienny, akcje Tesla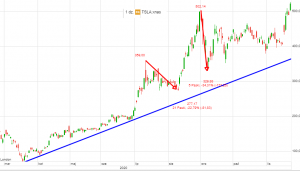 Powyżej wykres na którym widzimy dwie dość znaczne korekty Pieowsz lipiec-sierpien 2020 -22% oraz kolejna wrzsień 2020 -34%.  Pytanie brzmi, czy aktualna korekta rzędu -36% jest okazją w trwającym dalej trendzie wzrostowym, czy może jest to początek nowego trendu spadkowego.
Na to pytanie, każdy inwestor musie jednak odpowiedzieć sobie sam.
Zapraszam do poznania platformy inwestycyjnej na darmowym koncie demo