Korekta na metalach szlachetnych – co to oznacza?
Od szczytu z początku sierpnia ceny złota notują korektę (spadki) rzędu -10%, natomiast  ceny srebra, odpowiednio -27%. Czy jest to okazja dla nowych inwestycji, czy też raczej powód do zmartwień dla dotychczasowych inwestycji w metalach szlachetnych?
Spójrzmy na obraz analizy technicznej, analizując złoto, srebro oraz indeks dolara z nałożoną na wykres średnią ruchomą 100 (jest to średnia obrazująca średni poziom ceny z ostatnich 100 sesji giełdowych).
Złoto w relacji do dolara, wykres dzienny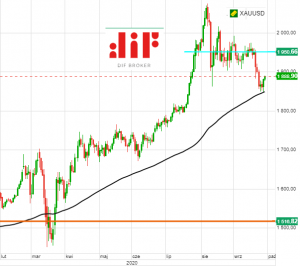 Powyżej wykres XAUUSD, widzimy, iż notowania złota notowały silne wzrosty notowań od poziomu minimów z marca tego roku. Licząc od marca do sierpnia, ceny złota zyskały na wartości + 40%.
Następnie, od szczytu z sierpnia, aktualnie do 28 września zanotowały korektę rzędu 10%. Widzimy, iż koreka ta sprowadziła notowania do średniej z SMA100 dni. Wart zaznaczenia jest fakt, iż ceny złota pierwszy raz znajdują się w okolicach śreniej z 100 sesji giełdowych!
Aktualnie poziom ten posłużył jako wsparcie i wspiera notowania. Lecz oczywiście nie mamy żadnej gwarancji, iż korekta, już osiągnęła swoje dno i została zakończona.
Srebro w relacji do dolara, wykres dzienny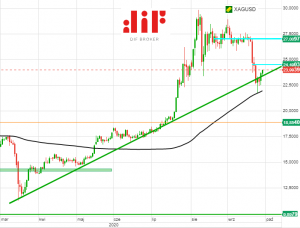 Od dołka cen z marca tego roku, ceny srebra gwałtownie zyskały na wartości i do początku sierpnia ceny wzrosły aż 165%.
Nastepnie od sierpnia do 28 września nastapiła korekta notowań, która aktualnie sięgnęła 27%. Korekta ta także sprowadziła notowania w rejony średniej 100 z ostatnich 100 sesji giełdowych.
Aktualnie widzimy, iż notowania jedynie dotkneły do średniej i natychmiast się od niej odbiły, czyli, na teraz średnia ta posłużyła jako poziom wsparcia dla aktualnej korekty, ale nikt nie może zagwarantować, iż korekta nie będzie kontynuowana.
Indeks dolara, wykres dzienny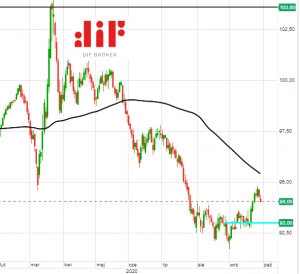 Z kolei indeks notowań amerykańskiego dolara w stosunku do koszyka innych walut, stracił na wartości od szczytu z marca do dołka z 1 września stracił na wartości – 11%.
Od początku września do 25 września zanotował korektę wzrostową i zyskał na wartości + 3%.
Tutaj odnosząc się do średniej ruchomej z ostatniej 100 sesji giełdowych, notowania dolara znajdują się poniżej tej średniej i notowania nie osiągnęły jeszcze tego poziomu.
Z reguły notowania cen metali szlachetnych są odwrotnie skorelowane z notowaniami dolara. Czyli gdy dolar się osłabia to metale drożeją i gdy dolar się umacnia to metale tracą na wartości.
Podsumowanie
W tym roku notowania metali szlachetnych notowały silne wzosty i aktualnie widzimy, iż mamy korektę tych wzrostów.
Pierwszy raz od marca tego roku testowane jest wsparcie jakim jest poziom średniej ruchomej z 100 sesji giełdowych dla metali szlachetnych
Indeks dolara nie doszedł jeszcze do poziomów oporu wynikającyh z poziomu średniej ruchomej 100.
Wnioski
Nikt nie jest w stanie zagwarantować, iż aktualna korekta dla metali szlachetnych osiągneła już swoje dno. Byłoby to za proste.
Inwestując zawsze stoimy w obliczy ryzyka inwestycyjnego. Na cenę, na notowania ma wpływ ogromna ilość zmiennych. W chwili, gdy nastąpi nowe wydarzenie, mamy nową zmienną i nowe okoliczności. Na cenę w każdej chwili sesji giełdowej ma wpływ siła popytu i podaży.
W dniu dzisiejszym pierwsza debata prezydencka Donald Trump kontra Joe Biden – z pewnością nie pozostanie ona obojętna pod względem wpływu na wyceny na giełdach.