Jak inwestować na giełdzie?
Po bardzo mocnych wynikach dla amerykańskiej giełdy za ubiegły rok 2019, aktualny rok 2020 rozpoczął się stosunkowo dobrze patrząć na wyniki indeksu SP 500. Mierząc do 5 lutego amerykański indeks giełdowy zyskał 3,22%. Na uwagę zasługuje fakt, iż już teraz widzimy znaczne różnice w wynikach akcji w ramach poszczególnych sektorów.
Im większe są różnice pomiędzy wynikami poszczególnych sektorów, tym istotniejszy jest właściwy wybór sektora dla inwestycji na giełdzie. Dzięki właściwemu doborowi akcji z poszczególnych sektorów mamy szansę osiągnąć wyniki z inwestycji przeewyższającei wyniki szerokiego indeksu giełdowego, jakim jest indeks SP500.
Poniższy wykres przedstawia wyniki od początku tego roku dla 40 indeksów sektorowych. Jak widać, w przeciągu ponad pięć tygodni od początku roku, różnica między sektorem o najlepszych wynikach (sektor oprogramowania), a sektorem o najniższych wynikach (sektor ropy naftowej) wynosi obecnie nieco ponad 17%.
Tak wysoki procent podpowiada, iż w roku 2020 różnice pomiędzy najlepszym i najgorszym sektorem mogę być powyżej średnie statystycznej. Dla porównania w ubiegłym roku różnice te były poniżej średniej statystycznej.
Wyniki indeksów sektorowych od początku 2020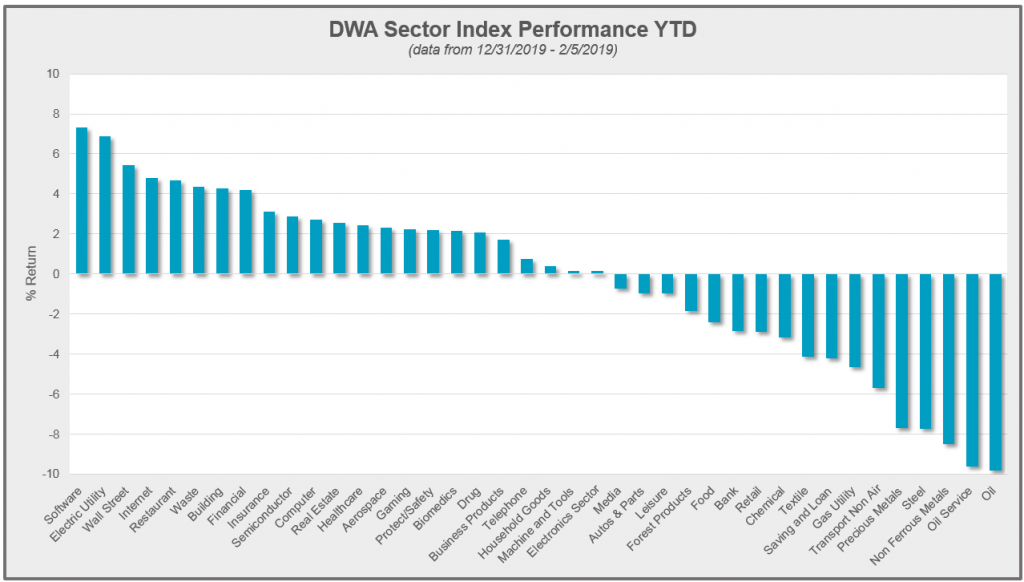 źródło DWA Nasdaq
Hipotetyczne inwestycje
Dla zobrazowania tego, jak istotną kwestią jest inwestowanie w ramach sektorów, wyobraźmy sobie hipotetyczną sytuację czterech hipotetycznych inwestorów, inwestujących różnymi strategiami przez ostatnie 26 lat.
Wyobraźmy sobie, iż w latach 1993-2019 pierwszy inwestor, nazwijmy go Pan Kup i Trzymaj stosował prostą strategię inwestowania, czyli po prostu kupił akcje wchodzące w skład indeksu SP500 i trzymał inwestycję nie wykonując żadnych dodatkowych transakcji.
Drugi z naszych inwestorów jest jasnowidzem i inwestuje tylko w miesiącach, kiedy indeks SP500 osiąga zyski, nazwijmy go Mr Perfect Market Timer.
Kolejni dwaj inwestorzy to inwestorzy sektorowi. Jeden to Pan Najlepszy Sektor, ma on możliwość każdego roku wiedzieć, jaki sektor osiągnie najlepsze wyniki danym roku, i inwestuje 100% swojego portfela właśnie w ten jeden sektor.
Ostatni inwestor to Pan Najgorszy Sektor, nie ma szczęścia przy wyborze sektoru do inwestycji i co roku inwestuje 100% swoich środków w najsłabszym sektorze.
Sprawdźmy wyniki hipotetycznych inwestycji
Na początku w 1993 roku,  każdy z naszych hipotetycznych inwestorów posiadał taką samą kwotę w wysokości 10 000 USD. Jak można sobie wyobrazić, każdy z inwestorów osiągnął zupełnie różne wyniki na przestrzeni lat.
I tak, na koniec 2019 roku portfel Pana Kup i Trzymaj wynosiła około 127 000 USD, podczas gdy Mr. Perfect Market Timer miał wartość portfela ponad 7 milionów USD.
Pan Najlepszy Sektor odnotował wzrost swojego portfela do 15,27 mln USD, podczas gdy portfel Pana Najgorszy Sektor był wart tylko 723 USD! Tak, dobrze przeczytałeś – zostało tylko 723 USD z początkowej inwestycji 10 000 USD!
Roczne wyniki hipotetycznych inwestycji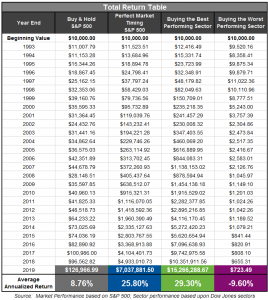 źródło DWA Nasdaq
Jest to tylko mocna ilustracja        
Wydaje się proste, prawda? Wystarczy, że co roku zainwestujesz w sektor o najlepszych wynikach i praca wykonana. Niestety, nie jest to takie proste, ani nie zalecam, abyś wybrał absolutnie najlepszy sektor i umieścił wszystkie jajka w jednym koszyku; jest to po prostu silna ilustracja tego, jak ważne może być uwzględnienie planu rotacji sektorów w ogólnej strategii portfela.
Natomiast na uwagę zasługuje fakt, iż inwestowanie z ramach najlepszych sektorów jest nawet istotniejsza, niż zdolność do perfekcyjnego dopasowania się do całego rynku.
W ranking siły relatywnej sektorów DWA, widocznym poniżej, widzimy, iż na dziś sektorami najsilnieszymi są sektory: semiconductors, waste management oraz computers oraz najsłabszymi sektorami są: gas utilities, oil oraz oil service.
Ranking siły relatywnej sektrów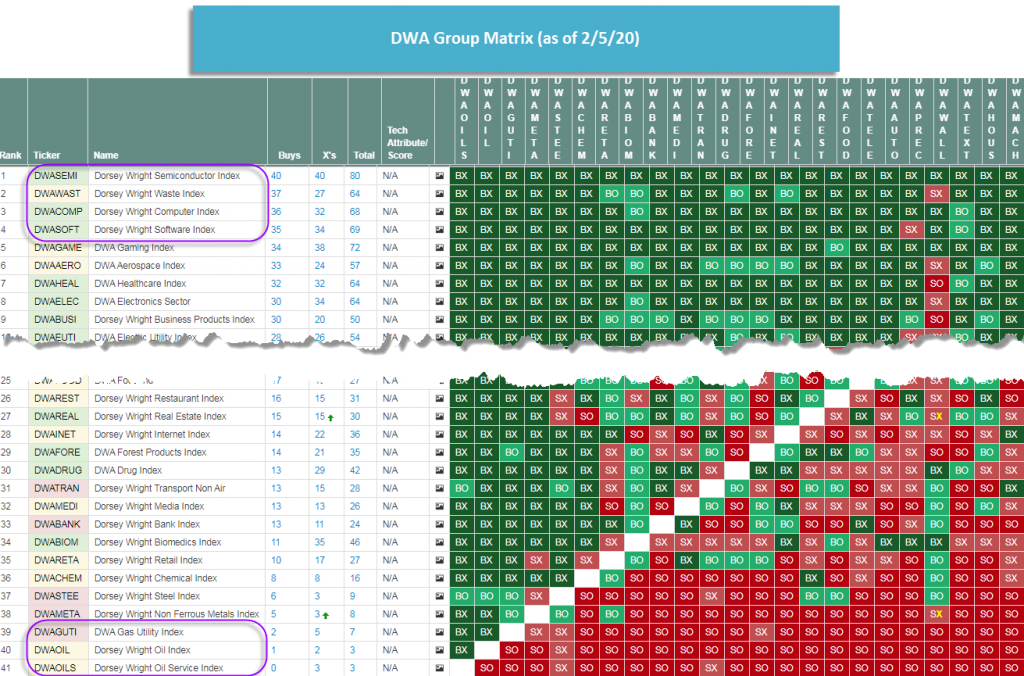 źródło DWA Nasdaq