Inwestowanie w srebro
Chcesz zainwestować w srebro? Na platformie DIF BROKER jest to możliwe i nie musisz posiadać statusu profesjonalnego inwestora. Z tego artykułu dowiesz się jak zainwestować w fundusz ETF na srebro na naszej platformie.
ETF na srebro
Zaloguj się do swojego konta w DIF BROKER, by móc prześledzić proces. Jeśli nie masz u nas konta, możesz skorzystać z naszej bezpłatnej platformy demo, która jest odzwierciedleniem konta rzeczywistego. Platforma demo do pobrania tutaj.
Skorzystaj z naszej wyszukiwarki i wpisz ticker interesującego Cię instrumentu, w naszym przykładzie będzie to PSLV. W wynikach wyszukiwania wyświetli Ci się Sprott Physical Silver Trust.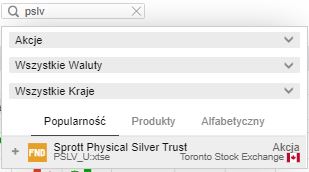 Nie przejmuj, że jest on przypisany na platformie do kategorii FND Akcja. Jest to fundusz ETF Sprott Silver. Na platformie wszystkie fundusze ETF Sprotta otrzymały ikonkę FND lub EQ – Equity, ale są to ETF-y.
W wynikach wyszukiwania w pierwszym rzucie widać srebro notowane nia giełdzie w Toronto. Jeśli chciałbyś zainwestować na New York Stock Exchange, to wystarczy, że klikniesz zaznaczony na zdjęciu plusik, wtedy rozwinie Ci się dany instrument notowany również na innych giełdach.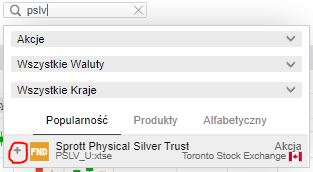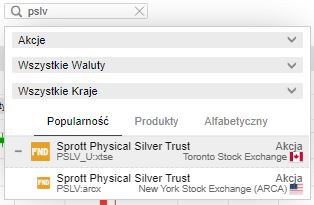 Następnie wystarczy kliknąć w przycisk TRANSAKCJA. I w okienku zlecenia ustawić odpowiednie dla Ciebie wartości. Pamiętaj, że aby móc zrealizować zlecenie natychmiast, giełda musi być otwarta. Jeśli rynek jest zamknięty, to transakcja po cenie rynkowej zostanie zrealizowana w momencie otwarcia, po cenie, która będzie w momencie otwarcia.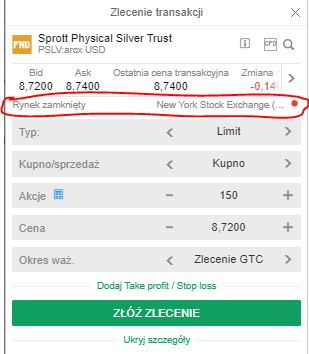 Obsługa platformy nie należy do trudnych. Zachęcamy również do obejrzenia naszego materiału wideo wprowadzającego do platformy.