Indeks S&P500, jak styczeń, tak i cały rok
" Jak minie styczeń, tak i cały rok"
" Jak minie styczeń, tak i cały rok"
Mamy początek lutego, czyli styczeń mamy już za sobą, amerykański indeks giełdowy S&P500 przyniósł inwestorom zwrot w wysokości 7,87%. Starte przysłowie giełdowe mówi "Jak minie styczeń, tak i cały rok" sugerując, iż styczeń służy jako prognozowanie wyników za cały rok.
Czyli jesli styczeń zamknie się w pozytywnych terytoriach to rok także zamknie się w pozytywnych terytoriach. Oraz jeśli styczeń zamknie się negatywnie, to rok także zakończy się na minusie. Jeśli te przysłowie jest prawdziwe to rok zamknie się nam pozytywnie, gdyż styczeń przyniósł nam rekordowe wyniki, czwarte co wielkości liczą od 1950 roku, oraz najlepsze wyniki licząc do 1987 roku.
Poniżej historyczne wyniki pokazujące na ile prawdziwe jest przysłwie dotyczące stycznia, dane od 1950 roku (źródło: Stock Trader's Almanac). Jest to nijako Barometr Stycznia za ostatnie 69 lat. Prosimy pamiętać iż te historyczne tendencje są tylko tym, tylko tendencjami i nie mogą być używane jako jedyny wskaźnik alokacji, przy zarządzaniu ryzykiem rynkowym.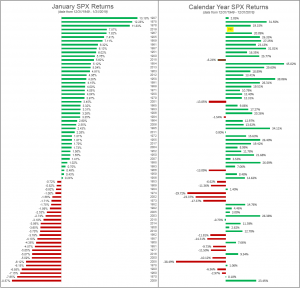 (źródło: Stock Trader's Almanac).
Statystyka:
Gdy indeks S&P 500 SPX zanotował zyski w styczniu, zanotował także zyski za cały rok, w 88% przypadkach (37 razy na 42).
Średni zysk roczny, gdy styczeń był pozytywny, wynosi +16.35% za rok.
Kiedy S&P 500 przyniósł stratę w styczniu, przyniósł stratę za rok w 52% przypadkach (14 razy na 27).
Średnia strata dla lat, gdzie styczen był negatywny wynosi -2.8%.
Barometr miał "rację" w 74% pzypadkach liczc od 1950 roku .
Miały miejsce 10 razy "duże odchylenia", kiedy to indeks SPX za rok przynisł wyniki za rok przekraczające 5% w przeciwnym kierunku, aniżeli wyniki za styczeń.
Jak widzimy chociaż przysłowie, ma wysoki współczynnik sukcesu, nie jest to nic pewnego. Na przykład 5 z 10 razy kiedy miały miejsce duże odchylenia miały miejsce w przeciągu ostatniej dekady, właczając w to 2018. SPX zyskało w styczniu 2018 5.5%, lecz rok zakończyło ze strata -6,24%. Barometr stycznia, nie powinien być wykorzystany jako rekomendacja inwestycyjna, raczej jako dodatkowy wskaźnik, który można brać pod uwagę podczas inwestowania.