Indeks DAX, analiza techniczna z fundamentalną
Czy już wszyscy uwierzyli we wzrosty?
Indeks DAX, analiza techniczna z fundamentalną
Na skutek ogłoszonej pandemii Covid 19, na przestrzeni lutego i marca niemiecki indeks akcji DAX, zanotował gwałtowną korektę wielkości ponad 40%. Spadki zostały wyhamowane na poziomie 8000 punktów. Dlaczego właśnie tam?
Analiza techniczna łączy się z analizą fundamentalną
Notowania akcji odnalazły poziom wsprarcia na technicznym poziomie 8000 punktów.  Poziom ten jest bardzo silnym poziomem wsparcia, gdyż jest to poziom szczytu notowań z 2000 oraz 2007. Dokładnie wtedy kiedy indeks dotknął tego poziomu w dniu 19 marca Europejski Bank Centralny ogłosił Nielimitowany Skup Aktywów i to spowodowło powrót popytu na giełdę. Patrz wykres poniżej.
wykres miesieczny, widok z ostatnich 20 lat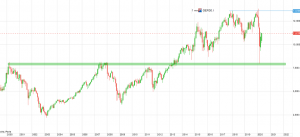 Od 19 marca widzimy, iż walkę popytu i podaży wygrywa popyt, od czasu ogłoszenia nielimitowanego skupu aktywów, indeks zyskał na wartości 40%! Spadki zostały już odrobione w 60%. Pytanie, które jest teraz interesujące dla wszystkich: Co dalej….?
Pytanie  brzmi, co dalej?
Aby odpowiedzieć sobie na to pytanie, spójrzmy na wykres 1 godzinny. W dniu 30 kwietnia korekta wzrostowa sięgnęła poziomu 11 342 i był to najwyższy poziom ostatnich wzrostów. Od tego czasu notowania DAX znajdują się w przedziale cenowym od 11 342 do 10 262 punktów, gdzie poziom 11 342 jest poziomem oporu.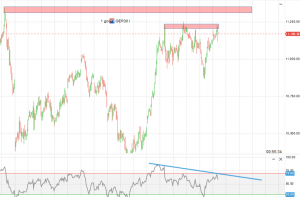 Na uwagę zasługuje fakt pojawienia się dywergencji na wykresie 1h, widocznej na wskaźniku RSI. Dywergencja taka jest wskaźnikiem zapowiadającym spadki.
Podsumowanie
Notowania DAX bez wątpienia znajdują się na poziomie oporu. Równocześnie nie możemy ignorować faktu, iż mamy do czynienia z silnym popytem ze strony banków centralnych. Spokoju nie daje mi tylko jedno pytanie: Czy już wszyscy uwierzyli we wzrosty? Bo jeżeli tak, to chyba czas szukać wejścia w krótką pozycję.