Fundusze ETF
ETF (Exchange Traded Fund) są to fundusze notowane na giełdzie. Fundusze ETF są to, tak zwane, fundusze zarządzane pasywnie, czyli nie mają na celu pokonanie indeksu giełdowego, a jedynie jak najwierniejsze jego odwzorowywanie.
Należy pamiętać, iż fundusze ETF zaliczane jest do instrumentów złożonych i przed przystąpieniem do inwestowania, należy zapoznać się z specyfiką danego ETF: w co inwestuje, jak jest zbudowany i tym podobne. DIF posiada  Dokumenty zawierające Kluczowe Informacje KID, które dostepne są pod linkiem KID.
Ostrzeżenie "Ten produkt nie jest produktem prostym i może być trudno w zrozumieniu"
Podsumowanie ryzyk znajduje się w dokumencie KID.
Wyszukiwanie funduszy ETF na platformie DIF
Logując się na koncie maklerskim, po lewej stronie dostepne są Listy instrumwentów, są to tylko przykładowe listy i można tam dodawać instrumenty według własnych preferencji. Na koncie dostepne jest znacznie więcej funduszy, niż jest to pokazane na przykładowych listach. Aby znaleść dany ETF należy przejść do pola Znajdź instrument, tak jak jest to zaznaczone na zdjęciu poniżej.

W oknie tym, istnieje filtr wyszukiwania i tak możemy przejść do zakładki ETF. Po kliknięciu ukaże się na widok jak poniżej.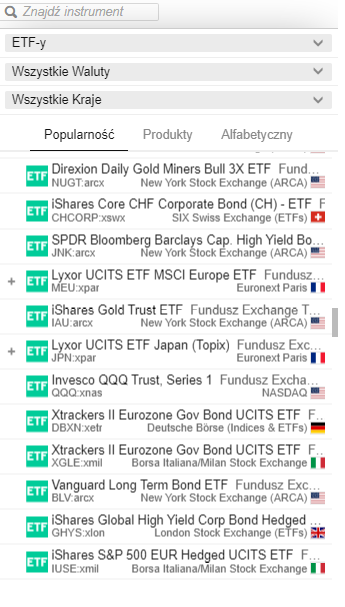 W tym widoku widzimy fundusze ETF we wszystkich walutach i notowana we wszystkich krajach. Może zawęzić nasze wyszukiwania do np. waluty CHF. Ukaże się lista ETF notowanych we frankach szwajcarskich.
Wyszukiwanie funduszy ETF, waluta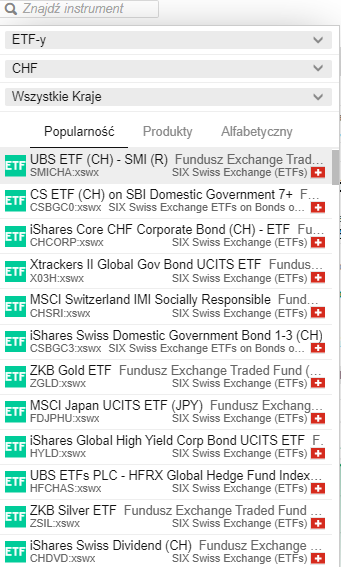 Wyszukiwanie funduszy ETF po nazwie
Jeśli szukamy konkretnie jakiegoś funduszu ETF np. na złota czy funduszu inwestującego na rynkach wschodzących, należy wpisać słowo klucz w wyszukiwarce. Uwaga słowa zawsze muszą być wpisane w języku angielskim. Poniżej wyniki wyszukiwania dla słowa pallad. Jeśli mamy włączone wszystkie instrumenty, pojawią się wyniki jak poniżej: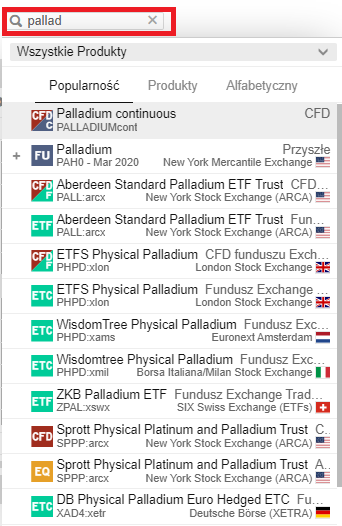 Widzimy ogromną ilość różnej klasy aktywów: kontrakty CFD, futures, ETF. Tutaj mała dygresja fundusze Sprotta, też są funduszami ETF, natomiast na naszym koncie są zaklasyfikowane w grupie Equity, natomiast niezmienia to faktu, iż są to fundusze ETF.
Wyszukiwanie funduszu ETF po tickerze
Możemy też w wyszukiwarce wpisać skrót danego funduszu, czyli tak zwany ticker np. IAU dla funduszu iShares Gold Trust ETF. Poniżej widok z takiego wyszukiwania.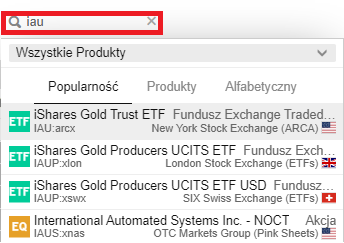 Jak widać mamy więcej niż jeden winik dla takiego zapytania. Przed rozpoczęciem inwestycji, należy się upewnić, dla jakiego instrumentu chcemy złożyć zlecenie. Jak spojrzymy bliżej tylko pierwszy winik to fundusz który nas interesuje IAU, pozostałe wyniki po prostu mają ten sam ciąg liter.
Złożenie zlecenia na kupno funduszu ETF
Po wybraniu IAU otwiera się okno zlecenia tak jak widoczne pozniżej. Wybieramy cenę, ilość. Widzmy prowizję do transakcji 15 USD oraz wartość nominalną transakcji w wysokości 11 317,50 USD.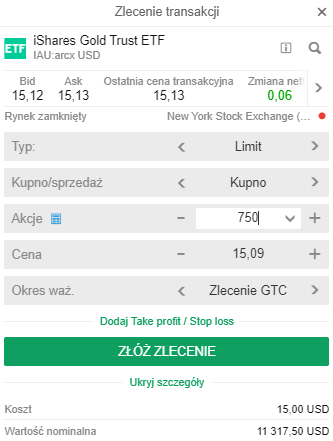 Tak jak zaznaczyłam na początku tego artykułu, fundusze ETF są instrumentem złożonym więc nie są zalecane dla każdego inwestora. Przed przystąpieniem do inwestowania neleży poznać dany instrument oraz ryzyka z tym związane.