Analiza Anna Dąbrowska
Indeksy amerykańskich giełd notują zdecydowaną korektę i nie jest to tak naprawdę żadnym zaskoczeniem dla inwestorów. Praktycznie nieprzerwane wzrosty na amerykańskiej giełdzie miały miejsce na przestrzeni ostatnich 10 lat. Inwestorzy już od co najmniej 3 lat wyczekują korekty, a nawet bessy.
Szczyt dla amerykańskiego indeksu S&P500 miał miejsce 21 września na poziomie 2 940 punktów. Od tego czasu indeks notował spadki i osiągnął swoje minimum na poziomie 2 600 punktów w dniu 29 paźdzernika. Czyli największy spadek w tym roku dla indeksu to 11%.
W tym momencie indeks nadrobił część spadków i znajduje się na poziomie 2 744 punków, tym samym 6% spadku od historycznego szczytu. Tak prezentuje się giełda amerykańska. Zupełnie inaczej wyglądają giełdy z krajów rozwijających się czyli Emerging Markets. Te giełdy od czasu kryzysu z 2008 nie notowały spektakularnych wzrostów, tak jak to miało miejsce dla giełdy amerykańskiej. Poniżej wykres iShares MSCI Emerging Markets.
iShares MSCI Emerging Markets (EEM), wykres miesięczny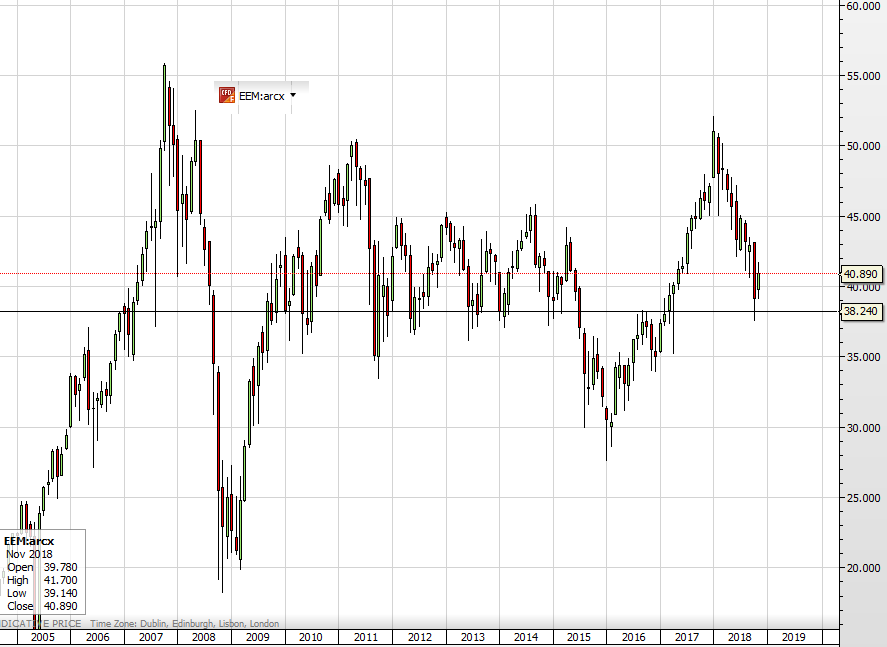 Szczyt cen akcji z grupy Emergin Markets miał miejsce w październiku 2007 kiedy instrument osiągnął poziom 55,82USD, następnie notowania spadły w czasie krachu do poziomu 18,22USD i był to poziom dna z listopada 2008. Od tego czasu prze całą dekadę notowania nie zdołały pokonać szczytu z 2007 roku.
Od 2010 do 2016 notowania znajdywały się w trendzie bocznym w przedziale 50-30USD. W styczniu tego roku ceny doszły do poziomu 52, 00 USD, poziom ten ostatni raz był widziany w 2008 roku.
Dziś notowania zatrzymały się na poziomie szczytów z 2016 roku, tak jak jest to pokazane w zbliżeniu na wykresie tygodniowym poniżej.
iShares MSCI Emerging Markets (EEM), wykres tygodniowy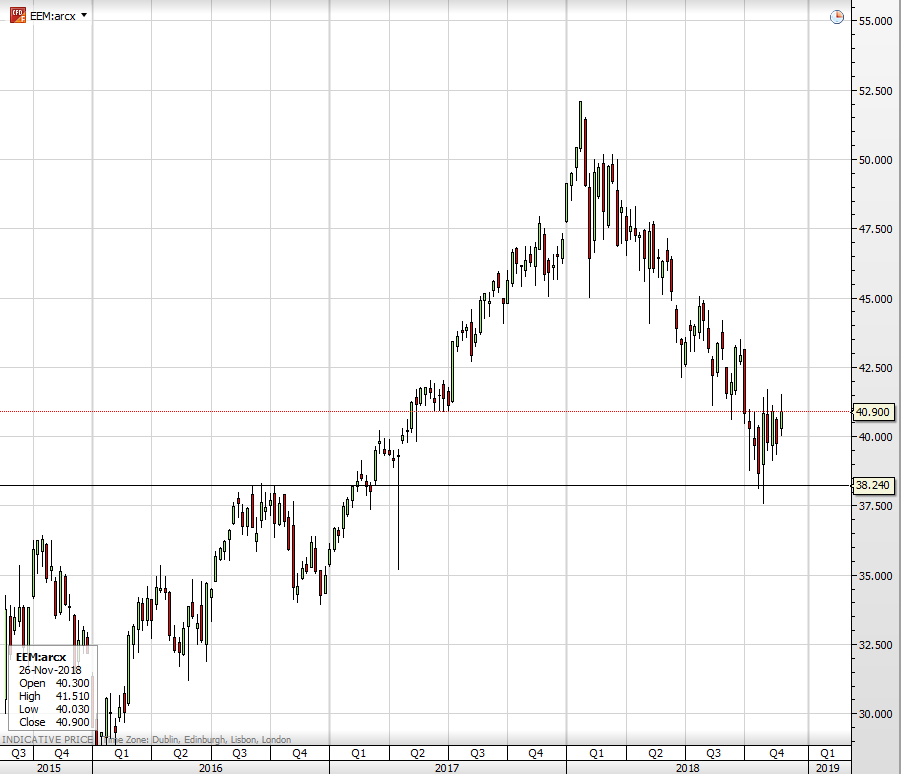 Ostatnia dekada należała do giełdy amerykańskiej, czy przyjdzie czas na giełdy krajów Emerging Markets?