Amerykańskie akcje, reprezentowana przez indeks giełdowy S&P 500 SPX zakończyły rok 2019 z zyskiem dwu cyfrowym, ma to miejsce po raz 8 na przestrzeni ostatnich 11 lat.
Amerykańskie akcje
Jak pisze Bloomberg, amerykańskie akcje miały najlepszą dekadę od 1950 (bloomberg.com). Do tej pory, na dzień 27.12 indeks SP500 przyniósł za rok 2019 zysk w wysokości 29%. Dziewieć na jedynaście głównych sektorów ekonomicznych przyniosło zyski przekraczające 20%, wyjątek stanowi jedynie sektor opieki zdrowotnej oraz sektor energii. Mówiąc innymi słowy około 88% akcji USA wchodzących w skład indeksu SP500 zanotowało zyski, pozostawiając jedynie 61 akcji, które zanotowały straty (stan na dzie 27.12). Giełda amerykańska stanowią bezsprzecznie lidera ostatniej dekady.
Wykres dzienny amerykańskiego indesu SP500, rok 2019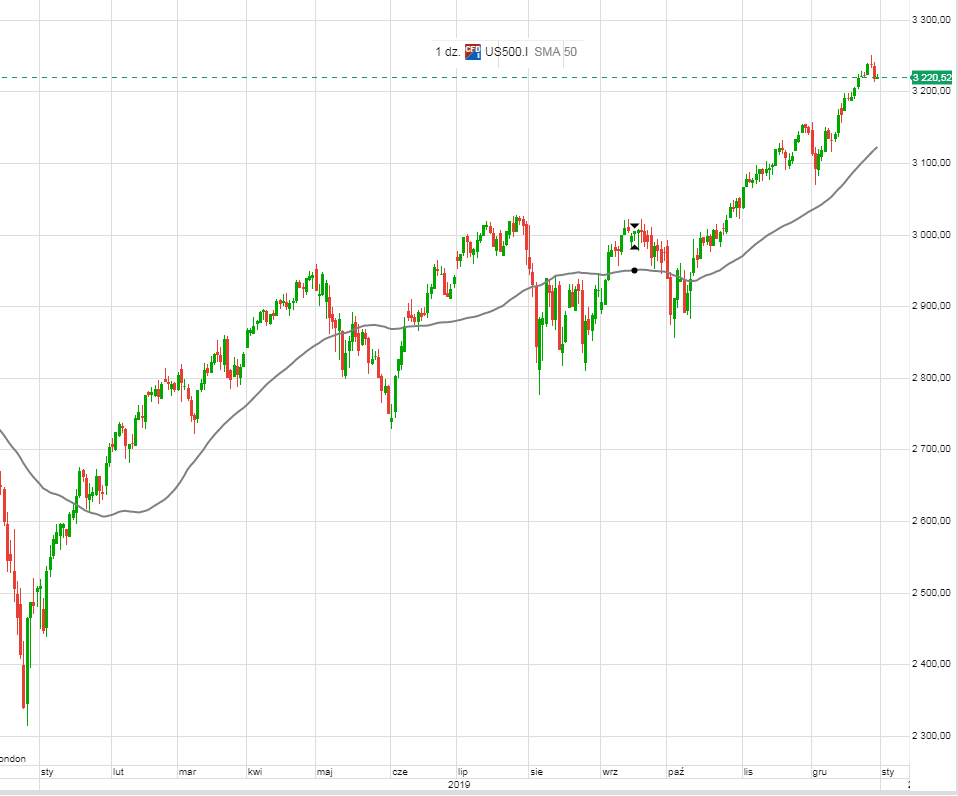 Trendy inwestycyjne na Nowy Rok 2020
Akcje amerykańskie przez ostatnią dekadę z pewnością były najlepszym miejsce dla inwestycji i póki co pozycja w dalszym ciągu jest utrzymywana. Wchodząc w rok 2020, na uwagę zasługuje osłabianie się amerykańskiego dolara. Wykres indeksu dolara poniżej.
Wykres dzienny indeksu amerykańskiego dolara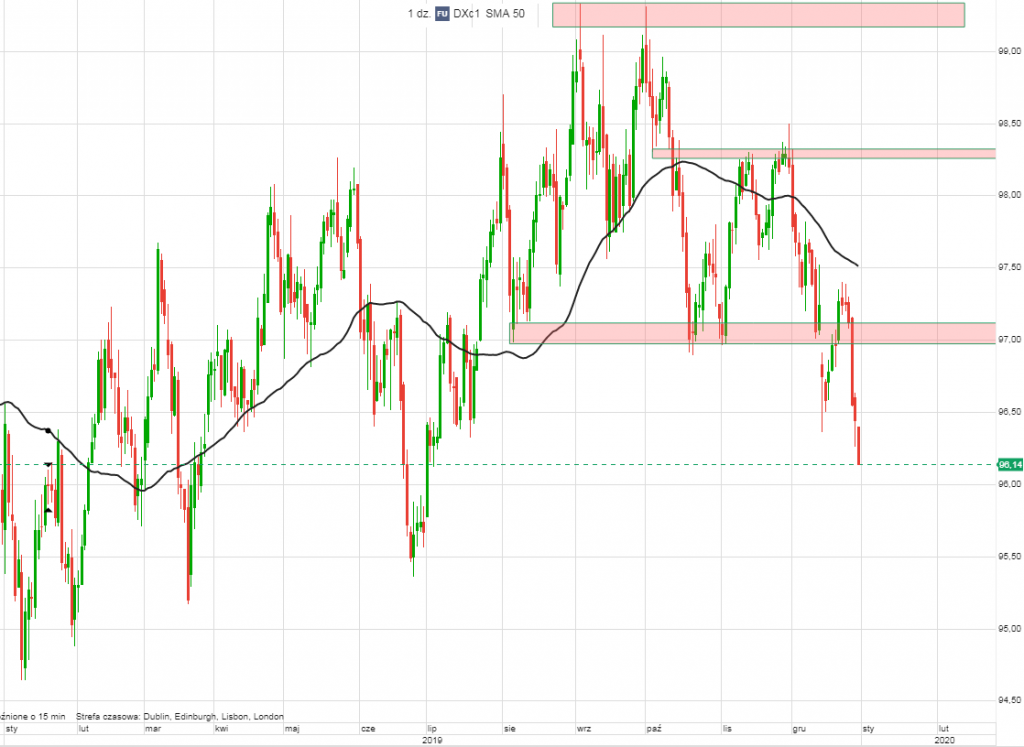 Od stycznia 2019 do sierpnia indeks dolara umocnił się o 3,90%, lecz rok zamyka z wzrostem na wartości jedynie 0,60%. Indeks dolara notuje tendencję spadkową od czasu odbicia od poziomu oporu w rejonach 99 USD. Jeśli ta tendencja utrzyma się na rok 2020, będzie to oznaczało zmianę dla wielu innych instrumentów, w szczególności dla metali szlachetnych oraz par walutowych. Czy będzie to rok osłabiające się dolara? Czas pokaże, natomiast z pewnością zasługuje na uwagę właśnie indeks dolara.
Dowiedz się więcej na temat analizy Dolar Amerykański