Zawieszenie notowań S&P500
Spodziewana dalsza zmianność
Zawieszenie notowań S&P500
W dniu dzisiejszym kontrakty futures na SP500 straciły ponad -5% i dlatego notowania zostały zawieszone, przewiduje się, iż zostaną zawieszone do czasu otwarcia giełdy rynku kasowego. Wraz ze wzrostem zmienności  Rezerwa Federalna obniżyła stopę procentową o 0,5%, poza harmonogramem regularnych posiedzeń, co stanowi pierwszy nadzwyczajny taki ruch od 2008 roku. Giełda jednakże nie przyjeła tego pozytywnie, inwestorzy oczekują większego złagodzenia.
Kontrakt Mini S&P500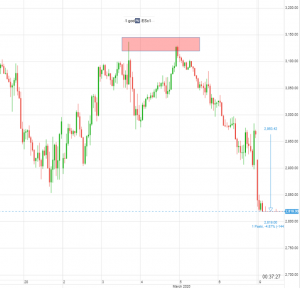 Co dalej?
Podejście ekonomisty: możemy zdefiniować obecną sytuację jako bardzo rzadką destrukcję podaży oraz popytu, wzmocnioną przez strach. Trzymalibyśmy starą "nudną" strategię portfela obejmującą 35% obligacji i 65% akcji.
Podejście inwestora inwestującego w wartość: możemy postrzegać obecne zawirowania na giełdzie jako okazję do uzyskania dostępu do tak wielu akcji po obniżonej cenie.
Day trading: to idealne warunki dla day tradingu. Codzienne wahania cen, w górę lub w dół, o ponad 2% w ciągu 4 z 5 dni.
W Chinach wirus został opanowany. To dobra wiadomość dla chińskiej gospodarki. Można rozważyć jako strategię hedgingową z ekspozycją na rynek chiński.  Rząd chiński planuje także wsparcie w utrzymaniu płynności dzięki ulgom podatkowym, zwolnieniom z płatności ubezpieczenia społecznego, obniżkom stóp procentowych i ukierunkowanym środkom finansowym. Ponadto dominacja banków państwowych w chińskim sektorze finansowym oznacza, że ​​polityka publiczna może szybciej uzyskać większą skuteczność. Rosną oczekiwania na kolejną obniżkę stóp Fed. Jest mało prawdopodobne, że Fed podąży za innymi bankami centralnymi i obniży stopy procentowe poniżej zera, ale może przywrócić QE, jeśli epidemia wirusa będzie kontynuowana.
Podsumowując, oczekujemy kontynuacji krótkoterminowej zmienności.
Zobacz analizę dla SP500 z 5 marca