Zdecydowana większość naszych Klientów posiada u nas konta inwestycyjne w walucie USD oraz inwestycje w akcjach także w USD. Posiadając inwestycje w innej walucie, niż swoja waluta bazowa, jest się wystawionym na ryzko walutowe. Przez cały rok 2018, Klienci posiadający inwestycje w USD zyskiwali na umacnianiu się dolara, lecz nie jest gwarantowane, iż trend ten będzie kontynuowany.
Dziś przygotowałam dla Państwa analizę techniczną pary USD/PLN. Gdy notowania pary rosną oznacza to, iż dolar się umacnia względem złotówki. Gdy notowania spadają oznacza to, iż dolar zaczyna się osłabiać względem złotówki. Jak pokażę poniżej mamy sygnały, iż dolar może zacząć się osłabiać.
Na wykresie analizy punktowo-symbolicznej, 20 marca został wygenerowany sygnał sprzedaży dla dolara względem złotówki, na skutek przełamania podwójnego dna na poziomie 3,7685. Na skutek spadków notowań, została przełamana linia trendu wzrostowego, co według analizy XO jest równoznaczne z rozpoczęciem trendu spadkowego. To już drugi raz w tym roku para przechodzi do trendu spadkowego.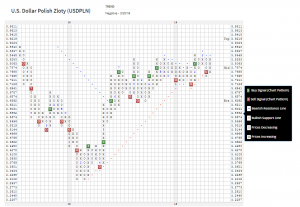 Źródło: DWA/NASDAQ

Legenda

Lata widoczne na samej górze wykresu

Miesiące to liczby namiesione na wykres

Linia trendu zawsze pod kątek 45 stopnii

Sygnał Kupna – gdy wzrosotwa klumna X przekracza poziom poprzedniej klumny X

Sygnał Sprzedaży – gdy spadkowa kolumna O przekracza poziom poprzedniej kolumny O
Poniżej wykres tej samej pary walutowej na popularnym wykresie świecowym. Na wykresie widać, iż szczyt notowań miał miejsce na początku 2017 na poziomie 4,25. Po tym nastąpiło przez cały 2017 osłabianie dolara i umacnianie się złotówki ( okres spadków na wykresie). Rok 2018 był to okres wzrostów dla dolara, lecz został on wyhamowany na poziomie 3,838 i poziom ten nie został pokonany.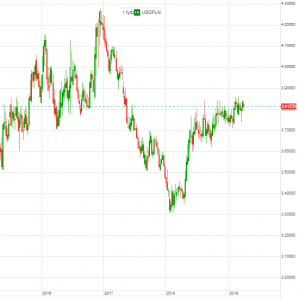 Hedging walutowy
Jest to tylko analiza techniczna i nie ma gwarancji co do przyszłego kursu dolara. Lecz istnieje sposób, zminimalizowania ryzyka walutowego i nazwa się Hedging. Hedging polga na otworzeniu przeciwstawnej pozycji na rynku walutowym Forex.
Na czym to polega hedging na konkretnym przykładzie?
Jeśli posiadasz zainwestowane 10 tys. USD w akcje amerykańskie, gdy dodatkowo sprzedaż parę walutową USD/PLN także za 10 tys. USD, zniwelujesz ryzyko spadku kursu dolara względem złotówki. Od tego momentu, ryzyko dla dolara zostało zniwelowane, ponieważ posiadasz równocześnie długą i krótką pozycje na dolarze na taką sama kwotę.
Inaczej mówiąc niwelujesz ryzyko walutowe, bo posiadając inwestycję wyrażoną w USD, posiadasz nijako długą pozycję w USD  i równocześnie krótką pozycję dla dolara na pozycji USD/PLN na rynku Forex.
Scenariusz 1
Gdy dolar będzie się umacniał.
Zyskasz na umacnianiu się dolara na inwestycji w akcjach i stracisz na krótkiej pozycji na rynku Forex.
Scenariusz 2
Gdy dolar będzie się osłabiał.
Zyskasz na osłabianiu się dolara na inwestycji na Forex i stracisz na pozycji w akcjach.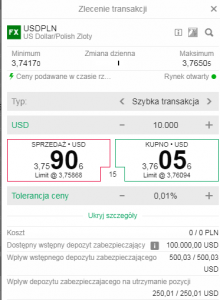 Co trzeba wiedzieć?
Aby przeprowadzić transakcję na rynku Forex nie trzeba posiadać 10 tys USD na koncie. Wystarczy, iż będziemy posiadac na koncie 2 tys USD dla długoterminowego utrzymywania takiej pozycji.
Nie ma prowizji lecz istnieje spread. Spread, czyli różnica w cenie kupna do sprzedaży wynosi 15 pipsów, tym samym koszt naszej przykładowej transakcji będzie wynosił 15 PLN.
Ze względu na relację oprocentowania USD oraz oprocentowanie PLN istnieją także koszty utrzymania pozycji, zwane rollover. Są to koszty utrzymania pozycji przez noc. Jest to kwota zmienna na 20 marca 2019 wynosi ona – 0,000221, czyli 2,2 pipsa, co dla 10 000 USDPLN daje to 2,2 PLN, za noc.
Podsumowanie
Idealnie byłoby gdybyśmy stosowali hedging tylko kiedy rzeczywiście jest on nam potrzebny. Oczywiście nie jest to możliwe, gdyż nie możemy przewidzieć przyszłości. Lecz jeśli chcemy zminimalizować ryzyko walutowe, istnieje narzędzie jakim jest hedging. Dobrze jest znać tą strategię gdyż można wykorzystwać ją zawsze do swoich inwestycji albo tylko okresowo.
Jeśli potrzebujesz więcej informacji, zapraszam do bezpośredniego kontaktu.
Anna Dąbrowska
Head of Polish Desk
tel. 0048 22 219-50-91