WIG 20: czy to dobry czas na polską giełdę?
Fundusz EPOL oraz wyniki WIG 20
WIG 20: czy to dobry czas na polską giełdę?
Na koncie maklerskim nie dajemy dostępu do GPW, natomiast posiadamy w swojej ofercie fundusz ETF na polską giełdę, który odworozuje wyniki indeksu MSCI Poland IMI 25/50. W skład tego indeksu wchodzą duże, średnie i drobne polskie spółki notowane na GPW.
Poniżej długoterminowe spojrzenie na notowania funduszu  iShares MSCI Poland ETF o tickerze EPOL.
Wykres tygodniowy funduszu ETF: EPOL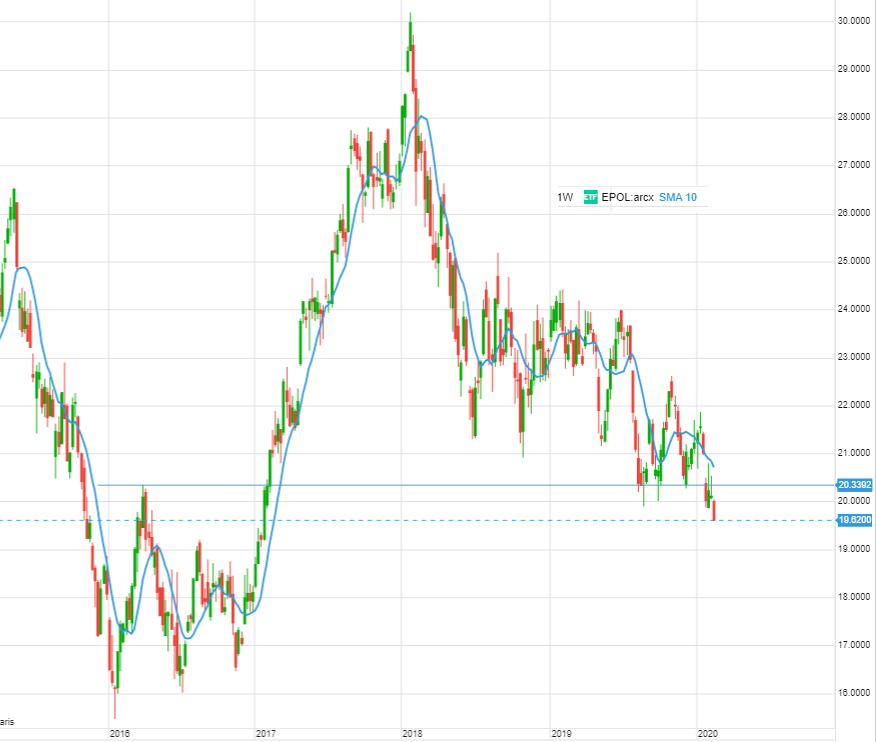 Licząc do 24 lutego 2020 od początku tego roku indeks WIG 20 stracił na wartości -6,51%, za ten sam okres fundusz EPOL stracił na wartości -6,70%. Także widzimy iż fundusz dośc wiernie naśladuje wyniki polskiego indeksu WIG 20.
Patrząc na wykres widzimy iż notowania notują nowe minima i w tym momencie znajdują się na poziomach ze stycznia 2017. W tym momencie notowania EPOL znajduję na poziomie 19 620 USD. Na chwilę obecną notowania znajdują się poniżej średniej ruchomej, na wykresie widoczna jest seria niższych szczytów oraz niższych dołków.
Czytaj podobne: