USDPLN oraz indeks dolara
Indeks dolara odbija od poziomu oporu 100.
USDPLN oraz indeks dolara
Historycznie poziom 4,00 jest poziomem oporu na pary walutowej USDPLN. Dziś w piątek 21 lutego 2020 widzimy, iż rysuje się czerwona świeca spadkowa na wykresie dziennym USDPLN. Gdy notowania pary walutowej rosną oznacza to iż dolar się umacnia i złotówka się osłabia. Z kolei kiedy notowania pary notują spadki, oznacza to, iż dolar się osłabia i złotówka się umacnia.
Wykres dzienny pary walutowej USDPLN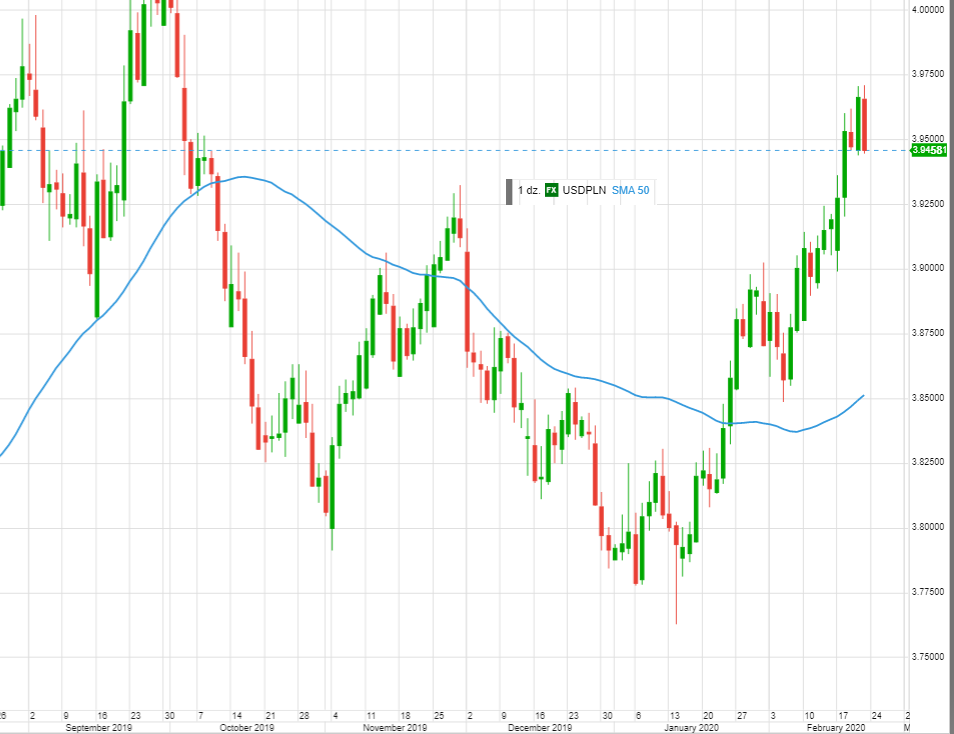 Wykres USDPLN jest silnie skorelowany z notowaniami indeksu dolara. Indeks dolara jest to indeks mierzący wartość amerykańskiego dolara w stosunku do koszyka sześciu innych walut. Waluty tworzące koszyk walut wraz z procentową wagą w koszyku: EUR 57,6%, JPY 13,6%, GBP 11,9%, CAD 9,1%, SEK 4,2%, CGF 3,6%. Indeks dolara został stworzony w marcu 1973 roku, tuż po zerwaniu z systemem Bretton Woods. Swoje pierwsze notowanie indeks miał na poziomie 100.
Jak widzimy na wykresie dziennym poniżej notowania wyrysowują spadkową świecę tuż pod poziomiem 100. Ostatni raz notowania znajdowały się na tym pozimach miało miejsce w maju 2017.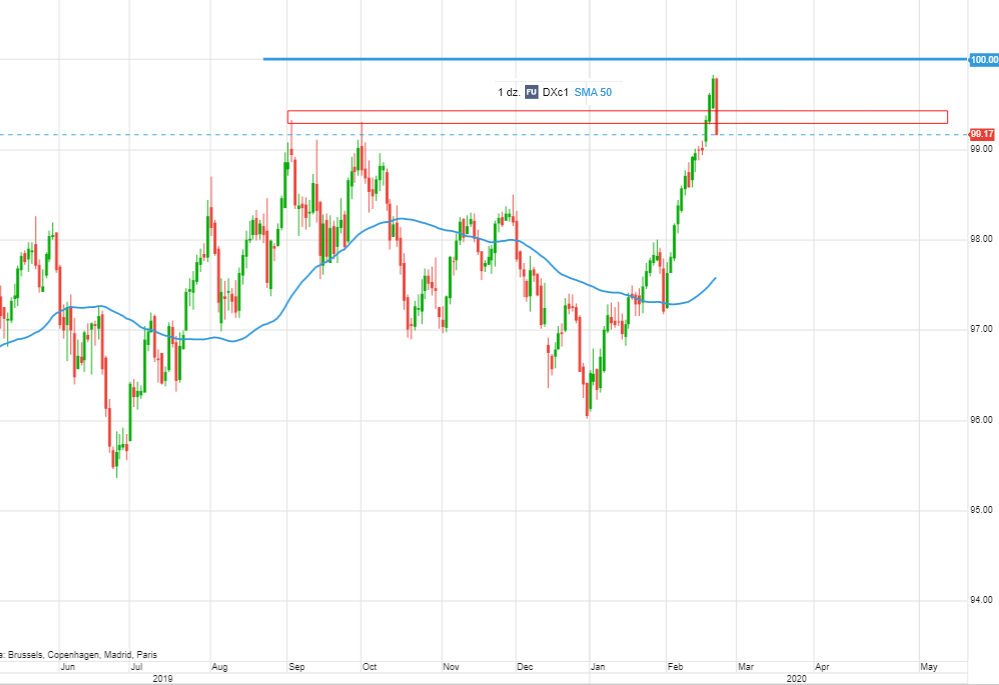 Słowo uwagi, faktem jest iż dolar znajduje się teraz na poziomie oporu i możliwa jest korekta notowań, natomiast należy też mieć na uwadze, iż ostatnie wzrosty notowań dolara były bardzo silne i nie możemy tego faktu ignorować. Podsumowując długoterminowo trend dla notowań dolara w dalszym ciągu jest rosnący.
Czytaj podobne: