USD JPY safe haven?
USD JPY jest bardzo charakterystyczną parą walutową, gdyż jest to para powszechnie uważana za Safe Haven, czyli za bezpieczną przystań, w czasach giełdowej zawieruchy. Zobaczmy jak notowania pary zachowywały się w czasach ostatnich krachów giełdowych i jak zachowują sie teraz.
W czasie ostatniego krachu z 2007-08 faktycznie Jen umocnił się wobec Dolara, czyli Jen potwierdził, iż jest Bezpieczną Przystanią w czasie niepepewności na giełdzie.
Inwestorów i Traderów zawsze natomiast interesuje to co się wydarzy, a nie to co się już wydarzyło. Ważne jest teraz wychwycić nowe pojawiąjące się trendy i tendencje giełdowe. W czasach kiedy gospodarka i dane fundamentalne rozjechały się w wynikami giełdowymi, czym można się kierować podejmując swoje decyzje? Sądzę, właśnie, iż to Analiza Techniczna, która przysparza tyle kontrowersji w Polsce, przychodzi tutaj z wskazówkami i pomocą.
Czy analiza techniczna działa?
W Polsce jest to dość popularny temat, czyli stwierdzenie, iż Analiza Techniczna nie działa. Powiem tak, dla kogo nie działa, dla tego nie działa. Analiza techniczna jest graficznym zapisem wyniku walki popytu i podaży. Czyli w graficzny sposób widzimy kto wygrywa tę walkę, czy kupujący czy sprzedający. Uważam, iż płyną z tego praktyczne wskazówki, pomocne do określenia po ktorej stronie rynku, chcemy być. A chcemy być zawsze z wygrywającymi!
Jen umacnia się wobec dolara 2007-2008
Poniżej wykres notowań dolara wobec jena od 2007 do teraz. Patrząc na wykres widzimy, iż faktycznie w czasie krachu na amerykańskiej giełdzie z lat 2007-2008, jen znacznie umocnił się wobec dolara, gdyż widzimy, iż USDJPY notował spadki jako para walutowa. Cały trend spadkowy dla USDJPY trwał od 2007 do 2011, podczas którego Jen umocnił się wobec Dolara aż 40%!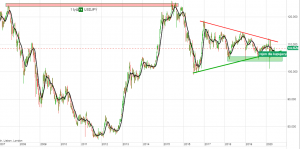 USD JPY odnalazła poziom wsparcia
W latach 2012-2015 Jen osłabił się znacznie wobec dolara, niwelując w całości swoje umocnienie. Aktualnie dla inwestycji istotanym poziomem jest poziom wsparcia widoczny na wykresie poniżej. W latach 2018, 2019 oraz 2020 widzimy iż para USDJPY odnalazła poziom wsparcia na poziomie zaznaczony poniżej na zielono.
Dodatkowo widzimy, iż notowania pary znajdują się w przedziale cenowym , którego ograniczeniem są linie trójkąta.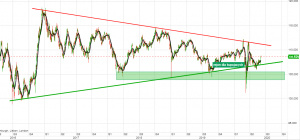 Kupujący przejeli przewagę
Patrząc na poniżesz wykres dzienny, widzimy, iż pojawili się kupujący. Jest to naturalne, gdyż notowania znajdują sie w rejonie wsparcia, czyli istnieje większe prawdopodobieństwo odbicia od poziomu wsparcia, aniżeli jego przebicia. Sygnalizowałam to wczoraj 02 czerwca na porannym wideo. Prawdopodobne jest, iż ten ruch wzrostowy będzie kontynuowany przynajmniej do górnego ograniczenia trójkąta.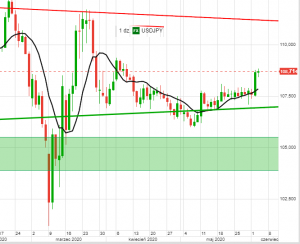 Powyżej widzimy, iż mamy wzrosty lokalne, lecz patrząc na wykres USD JPY z wykresu w przedziale czasu ostatnich 20 lat, być może możemy liczyć na ich kontynuację. Tak przynajmniej pokazuje analiza wykresu.
Analiza Fundamentalna
Pomimo, iż analiza fundamentalna, nie stanowi centum moich analiz, to jeśli osłaniabie Jena będzie kontynuowane w większym zakresie, będzie to znaczało jedno. Japonia,  jest pierwszym krajem, który na masową skalę rozpoczął proces drukowania waluty, celem ratowania gospodarki. Jeśli Jen będzie się osłabiał wobec innych walut, będzie to oznaczało, iż świat w końcu zrozumiał, iż drukowanie nie jest to wyjście z probelmu, a jest to jedynie przykrywanie problemu.
Podsumowanie
Możemy analizować giełdę pod względem fundamentalnym, ale to analiza wykresu pozwoli nam na spojrzenia JAK JEST, A NIE JAK POWINNO BYĆ.
Pamietajmy to RYNEK ma zawsze rację! I pomino tego, iż wydaje nam się, iż czasy są niepewne i Jen powinien się umacniać, póki co traci on na swojej wartości wobec dolara.
Giełda jest bardzo ciekawa, nie wszystko jest tutaj powtarzalne, pojawiają się nowe zmianne. Po czasie łatwo jest uzasadnić, dlaczego coś sie wydarzyło. Analiza techniczna jest analizą tego gdzie idzie popyt, pozwala we wczesnych fazach wychwycić nowe pojawiąjące się trendy.