SP500 silny popyt trwa
Czy będziemy mieli dalsze wzrosty?
SP500 silny popyt trwa
W ostatni czwartek na porannym wideo wysyłanym dla Klientów, omówiłam sytuację na wykresie SP500, był wtedy idealny set up dla spadków, pod koniec wideo zasygnalizowałam, iż jeśli nie zostanie on zrealizowany, otworzy to drogę dla dalszych wzrostów. I taki własnie widzę scenariusz. Tak pokazuje stale silny popyt.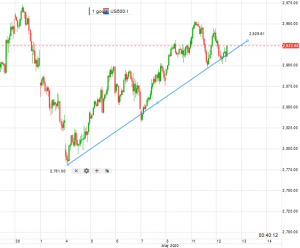 Ton dla dzisiejszej sesji giełdowej wyznacza widoczna powyżej linia trendu wzrostowego. Utrzymanie tej linii otwiera drogę do dalszych wzrostów.
Aktualnie bardzo wiele traderów poszukuje krótkiej pozycji i okazji do zarabiania na spadkach, lecz z moejgo doświadczenie widzę, iż popyt jest teraz zbyt silny. Korekta wzrostowa zaszła za daleko.
Oczywiście mogę się mylić, ale z pewnością dzisiejsza sesja jest ważna gdyż znajdujemy się na wysokich poziomach cenowych.
Z inwestycji długotwerminowych, sektory zasługujące na uwagę to biotechnologia, robotyka, komputery.