SP500 na kluczowym wsparciu
Warto teraz obserwować notowania indeksu SP500.
SP500 na kluczowym wsparciu
Poniżej wykres amerykańskiego indeksu SP500, wykres jedno godzinny, gdzie widzimy historię notowań od 8 czerwca 2020 do dziś.
Chwila wprowadzenis: pomarańczowa linia to poziom gdzie notowania indeksu rozpoczęły aktualny rok, czyli jest to poziom notowań indeksu SP500 z drugiego stycznia 2020. W pierwszej połowie czerwca widzimy, iż indeks zanotował gwałtowną korektę i miało to miejsce właśnie kiedy ceny dotknęły poziomu z początku roku.
Przez drugą połowę czerwca do 7 lipca mieliśmy powrót do wzrostów, gdzie spadki odeszły już w zapomnienie i wydają się powszechnie jako mało prawdopodobne aby miały miejsce.
Momentum niedźwiedzie?
Lecz aktualnie widzimy na wykresie, iż otwiera się okno możliwości dla sprzedających, o ile oczywiście zostaną spełnione pewne warunki.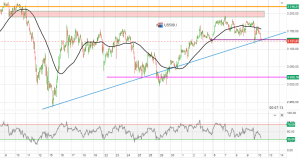 Aktualnie notowanie SP500 są wspierane przez widoczną na niebiesko linię trendu wzrostowego. Jeśli ona zostanie utrzymana oczywiście o spadkach nie może być mowy.
Lecz jeśli ona zostanie przełamana, to obraz techniczny drastycznie się zmieni i droga do większych spadków zostanie tymsamym otworzona. Na uwagę bez wątpienia zasługuje fakt, iż widzimy aktualnie niższy szczyt, poziom z 7 lipca.
Oczywiście nie ma co wyprzedzać faktów, tylko raczej reagować na to co na bieżąco pojawia na wykresie.