SP&500 na linii trendu spadkowego
Prawdopodobieństwo powrotu do spadków cen akcji.
SP&500 na linii trendu spadkowego
Inwestorzy, traderzy kązdy znajdzie aktualnie wiele okazji do zajmowania nowych pozycji, czy to z myślą o trzymaniu inwestycji na lata, czy spekulacyjnie z myślą o trzymaniu pozycji tylko kilka godzin.
FED i skup aktywów
W dniu 23 marca spadki dla amerykańskiego indeksu akcji zostały wyhamowane na skutek ogłoszenia przez FED nielimitowanego skupu aktywów. W tym samym dni na wykresie dziennym wyrysowała się świeca odwróconego młota, która jest sygnałem kupna w rozumieniu analizy świec. Do 27 marca indeks wzrósł 20%.
Nowy scenariusz
W tym momencie mamy nowy scenariusz. Korekta wzrostowa doszła do linii trendu spadkowego, zaznaczonej poniżej na wykresie na czerwowo. Trzecie odbicie od linii trendu statystycznie jest tym, które najczęściej się sprawdza. Omawiana korekta wzrostowa osiągnęła poziom 38% Fibonacciego całego ruchu spadkowego mierząc od  20 lutego.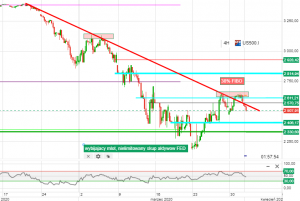 W ten moment widzimy, iż indeks SP500 respektuje linie trendu spadkowego i wzrosty zostały zatrzymane.
Równoczesnie pragnę zaznaczyć, iż silnym wsparciem jest poziom ostatniego dna z 23 marca. Także bedzie to natualne wsparcie dla ewentualnych spadków.