Shortowanie, czyli krótka sprzedaż
Na giełdzie inwestorzy są w tej dogodnej sytuacji, iż niezależnie czy ceny akcji idą w górę, czy idą w dół, mogą oni ZARABIAĆ!
Można zapytać, ale jak to to jest wogóle możliwe?
To co inwestor musi dobrze przewidzieć, to to, w którą stronę pójdą notowania akcji i zająć odpowiednio do tego pozycję na rynku.
Jeśli inwestor wierzy, iż ceny akcji w najbliższym czasie wzrosną otwiera transackję KUPNA i tym samym jeśli ceny akcji będę wzrastać, inwestor będzie notował zyski z inwestycji.
Jeśli z kolei inwestor wierzy, iż w najbliższym czasie na giełdzie będzie miał miejsce spadek cen akcji, może on otworzyć transakcję SPRZEDAŻY i tym samym, jeśli notowanie będę tracić na wartości, inwestor będzie notował zyski.
Jak otworzyć transkację sprzedaży?
Otwarcie transkacji sprzedaży to inaczej mówiąc, tak zwana KRÓTKA SPRZEDAŻ, lub z angielskiego SHORT SELLING. Można powiedzieć, iż sprzedajemy coś czego nie posiadamy, z późniejszym zamiarem odkupienia tego po wyższej cenie.
Poniżej okna transakcyjne z indeksem niemieckim DAX, aby zarabiać na spadkach notowań instrumentu, inwestor wybiera SPRZEDAŻ.
Krótka sprzedaż jest możliwa jedynie za pośrdednictwem KONTRAKTÓW CFD. Kontrakty CFD z uwagi na dźwignię finansową, są instrumentami o podwyższonym ryzyku. CFD z uwgi na dźwignię oferują wiele możliwości, ale także i ryzko strat jest tyutaj proporcjonalnie większe. Przed przystapieniem do inwestycji, zapraszamy przeczytaj dokumenty KIDS.Więcej informacji o konreaktach CFD na stronach DIF Broker: kontrakty CFD
W przykładzie powyżej, wartość nomilana jednego kontraktu to 12 000 EUR, depozyt potrzebny na koncie maklersim to 1 557 EUR.
Shortowanie akcji
Jeśli klikniemy na Sprzedaj np. acje Microsoft, lecz nie posiadamy takiej inwestycji, na platformie otrzymamy informcję, iż Inwestor nie może sprzedać akcji, których nie jest właścielem.
Ale będzie to już możliwe jeśli wybierzemy kontrakt CFD na akcje Microsoft, jak pokazane na zdjęciu poniżej.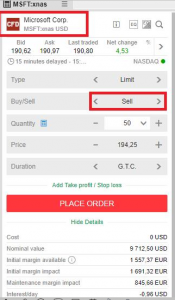 Do wartości nominalnej 7500 USD istnieje prowizja od transakcji w wysokości 9 USD, natomiast transakcje powyżej tej kwoty są bez prowizji.
Wartość nomilana zlecenie dla 50 kontraktów to 9 712 USD, depozyt potrzebny na koncie to 1 557 EUR / w sam raz to konto jest w EUR/
Widzimy także dzienne odsetki za pożyczenia kapitału i wynoszą one 0,96 USD za każdą noc.