Po czterech tygodniach spadków na amerykańskim indeksie akcji  S&P 500, indeks aktualnie notuje dwa kolejne tygodnie wzrostów, zyskując każdego tygodnia ponad 1,5%. Wzrosty te przełożyły się na zmianę w naszym barometrze nastrojów giełdowych i 9 września procentowy indeks sygnałów kupna dla giełdy NYSE powrócił do wzrostowej kolumny X. Czyli rośnie liczba sygnałów kupna dla akcji z giełdy, tym smym są to warunki do bardziej agresywnej postawy w inwestowaniu.
Omawiany wskaźnik przeszedł do kolumny spadkowej O, sugerując czas defensywnej postawy inwestycyjnej 5 sierpnia. Przez cały czas trwania tego sygnału procent akcji generujących sygnał kupna spadł z 52% do 38%. W tym momencie wskaźnik mówi nam iż 44% akcji z giełdy NYSE generuje sygnał kupna, definiowany przez analizę punktowo-symboliczną.
Pod względem analizy technicznej, amerykańskie akcje znajdują się na umiarkowanych poziomach, czyli nie są ani wyprzedane, ani wykupione, czyli zalecane jest poszukiwanie ekspozycji w silnych akcjach i unikanie inwestowania w akcje które notuja niską siłę relatywną.
Jest to oczywiście interpretacja jedynie pod kątem analizy XO, którą jak każdą inną analizę trzeba stosować konsekwentnie przez dłuższy okres czasu, aby być w stanie uzyskać pozytywne wyniki. Każde inwestowania obardzone jest ryzkiem inwestycyjnym. Zaletę tej metody, jest to iż jest ona oparta na sztywnych i jasnych zasadach, dzięki czemu zawsze wiemy jaką obrać postawę do inwestowania na giełdzie.
Procentowy indeks sygnałów kupna na giełdzie NYSE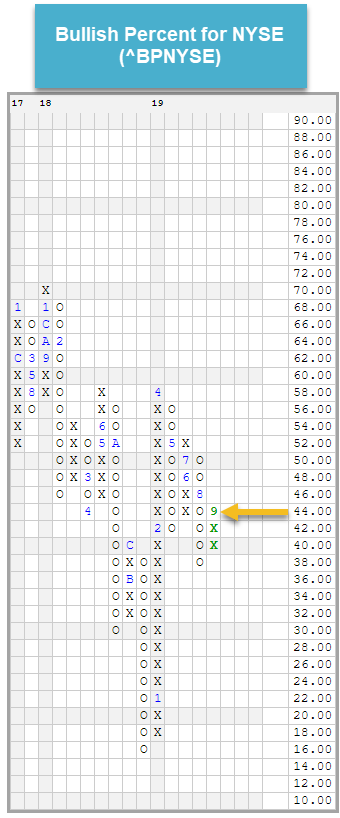 Źródło DWA/Nasdaq

Legenda

Oś pozioma – lata

Miesiące – liczby na wykresie

Kolumna O – liczba sygnałów kupna maleje

Kolumna X -liczba sygnałów kupna rośnie

Zmiana kolumny następuje gdy spadek lub wzrost wynosi co najmniej 3 kratki


Dzienny wykres indeksu S&P500