Stopy procentowe bliskie zera
W dniu wczorajszym 28 maja, Rada Polityki Pieniężnej po raz kolejny obniżyła stopy procentowe i aktualnie stopa referencyjna  NBP wynosi 0,1%. Jest to najnizszy poziom w historii!
Ciekawy jest moment ogłoszenia takiej decyzji. Decyzja ta została podjęta w czasie, kiedy to przez ostatnie dni polska waluta, silnie umacniała się wobec innych walut.
Spójrzmy jak to wygłada na wykresie pary walutowej USDPLN.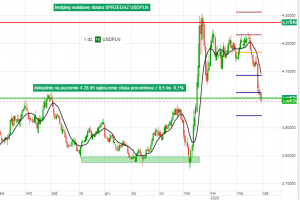 Powyżej widoczny wykres dzienny pary walutowej USDPLN. Gdy wykres ten notuje spadki, oznacza to iż PLN umacnia się wobec USD.
Od 14 maja do 28 maja, polski złoty umocnił się wobec amerykańskiego dolara ponad 5%!
Gdy notowania tej pary walutowej spadły do poziomu 4,00 została ogłoszona decyzja obniżenia stóp procenotwych. Po raz kolejny widzę, olbrzymi zbieg okoliczności, kiedy na kluczowych poziomach wynikających z analizy technicznej, ogłaszane są kluczowe dane makro ekonomiczne. Ostatni taki znamienny przykład czytaj anaizę dla indeksu DAX np. DAX.
Poziom 4,00 jest kluczowym poziomem wsparcia/oporu dla omawianej tutaj pary walutowej. Wydaje się oczywisty zamiar celowej deprecjacji PLN, lecz czy zostanie to osiągnięte?
Czy obcięcie stóp procentowy wyhamuje umacnianie się PLN?
To czy obniżenie stóp procentowych zaowocuje osłabieniem się notowań złotego, to się dopiero okaże. Na ten moment widzimy iż rynek przyjął tę wiadomośc bez większych emocji. Pomimo tego, iż notowania znajdują się na poziomie 4,00, pomimo, iż są złe dane dla PLN, patrząc na wykres nie widać, aby nastapiła znaczna zmiana kierunku notowań.
Notowania złotego i polska giełda
Analizując notowania polskiej złotówki, warto też spojrzeć na notowania akcji z polskiej gieły. Generalnie jeśli akcje polskich spółek będą notować wzrosty, polska wlauta także będzie się umacniać. Jest to naturalna korelacja.
Notowania złotego i globalna panika
Warty uwagi też jest fakt, iż ostatnie silne osłabienie PLN wobec USD nastapiło na samym początku globalnej paniki COVID19, czyli w połowie marca. Wraz z polepszaniem się nastrojów, możemy liczyć na odchodzenie od USD i tym samym osłabienie się notowań amerykańskiego dolara.
Zgodnie z harmonogramem Rady Polityki Pieniężnej kolejne spotkanie w sprawie stóp procentowych ma się odbyć już 2-3 czerwca.
Podsumowanie
Notowania USDPLN znajdują sie na kluczowym poziomie wsparcia oraz dokładnie na tym poziomie zostały obniżone stopy procentowe do najniższych poziomów w historii dla polskiej waluty. Naturalnym będzie jeśli umacnianie złotego zatrzyma się, na tym poziomie przynajmniej na jakiś czas. Pytanie tylko czy jest to wystarczające, aby zatrzymać dalsze umacnianie się polskiej złotówki?