Pallad, dalszy ciąg wzrostów
Notowania Palladu wzrosły od początku roku ponad 40%!
Pallad, dalszy ciąg wzrostów
Jeszcze do niedawna było głośno na temat ogromnych wzrostów cen Palladu, gdyż od początku roku do 17 lutego, notowania palladu wzrosły ponad 26%!  Takie wzrosty rzucają cień na wszystkie inne metale szlachetne.  Dla porównania za ten sam okres złoto zyskało 4,20%, platyna zyskała 0,22% i srebro straciło -0,28%. Także pallad zdecydowanie wybija się w bardzo znaczny sposób na prowadzenie.
Lecz jak widać, to nie koniec wzrostów dla tego pierwiastka zaliczanego do metali szlachetnych. Tylko od dnia wczorajszego (18 lutego) Pallad Spot zyskał około 12%!. To daje łączny wzrost od początku roku 2020 rzędu 40%.
Pallad, wykres ciągły kontraktów futures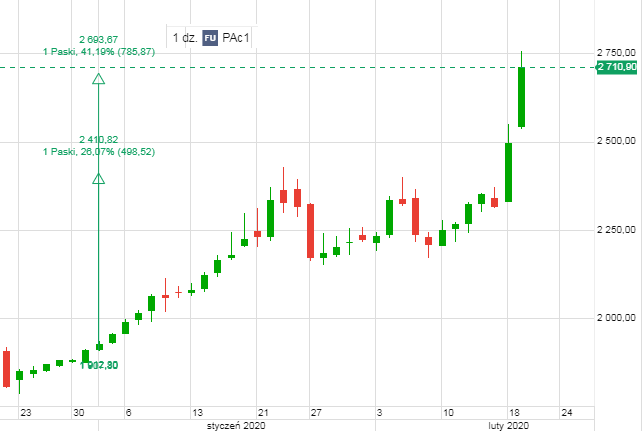 Z punktu widzenia analizy technicznej, nie ma wątpliwości, iż przeważają kupujący inwestujący na rynku Palladu.
Patrząc na analizę fundamentalną, pallad jest wykorzystywany do budowy katalizatorów, które są wykorzystywane w produkcji samochodów zasilanych elektrycznie. Widzimy także silny trend produkcji samochodów hybrydowych.
Oczywiście nie możemy ślepo podążać za wzrostami, które już miały miejsce i rozpoczynać inwestowanie w tym momencie. Aktualnie Pallad jest w rejonach wykupienia, tym samym nie jest to idealny moment do zajęcia długiej pozycji.
Czytaj podobne: