Osłabienie dolara i umacnienie złotówki
We wtorek 3 marca 2020 FED czyli Amerykańska Rezerwa Federalna zdecydowała na nadzwyczajnym spotkaniu o obniżce stopy procentowej o 50 punktów bazowych do przedziału 1-1,25%. Takie nadzwyczajne spotkanie ma miejsce pierwszy raz od 2008 roku!
Jak podaje WSJ spotaknie takie miało miejsce z powodu zagrożeń spowodowanych rozwojem koronawirus na gospodarkę Stanów Zjednoczonych i całego świata.
Generalnie obcięcie stóp procentowych jest pozytywnie przyjmnowane przez giełdę, jednkaże tym razem giełda amerykańska mieżona indeksem SP500 nie zareagował pozytywnie na tę wiadomość. Brak pozytywnej reakcji, jest sygnałem, który dobrze nie rokuje dla giełdy amerykańskiej.
Kolejne posiedzenie FED w sprawie obniżenia stóp procentowych jest zapowiedziane już na 18 marca.
Dolar zareagował na obniżenie stóp procentowych
Giełda nie zareagowała na obniżenie stóp procentowych, natomiast zrobił to dolar. Na wykresie poniżej wykres indeksu dolara, wykres ciągły kontraktów futures. Indeks dolara miał swoje pierwsze notowanie na poziomie 100. Poziom ten jest nijako punktem zero dla tego indeksu i stanowi silny poziom oporu.
Donald Trump i indeks Dolara
Gdy Donald Trump został Prezydentem USA w dniu 20 stycznia 2017 roku,  w tym dniu indeks dolara zakończył sesję giełdowa na poziomie 100,69. Nastepnie, do stycznia 2018 notowania dolara traciły na wartości. Od stycznia 2018 indeks dolara umacniał się.
Aktualnie w tym roku, 20 lutego dolar zanotował swoje maksimum na poziomie 99,82, czyli tuż pod poziomem oporu 100 i bardzo szybko stracił na wartości, do dnia dzisiejszego, czyli 6 marca, stracił -3,88% i znajduje się teraz na poziomie 95,89.
Indeks Amerykańskiego Dolara, kontrakty futures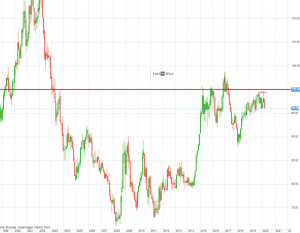 Czy dolar będzie się dalej osłabiał?
Tego nie wie nikt i nikt nie ma na nic gwarancji. Patrząc z punktu widzenia analizy technicznej, spójrzmy na wykres dzienny poniżej. Widoczna jest pro spadkowa formacja podwójnego szczytu tuż pod poziomem oporu 100. Na uwagę zasługuje szybkość ostatnich spadków. W dniu dzisiejszym indeks dolara przełamał linię wsparcia. Jeśli notowania dolara z dzisiejszej sesji giełdowej zamkną się poniżej tej linii wsparcia, oznaczać to będzie, iż obraz techniczny zdecydowanie uległ zmianie na spadkowy dla dolara.
Wykres dzienny indeksu dolara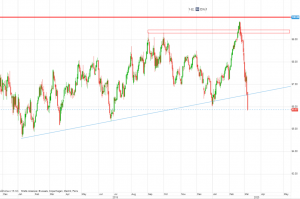 Notowania dolara a polska złotówka
Poniżej wykres paray walutowej USDPLN, czyli relacja amerykańskiego dolara do polskiej złotówki. Gdy dolar słabnie i złotówka się umacnia widzimy spadki dla notowań tej pary walutowej. Dla tej pary walutowej naturalnym oporem jest poziom 4,00. Pod koniec lutego notowania USDPLN zbliżyły się do poziomu oporu 4,00.  Od 24 lutego dolar osłabił się wobec złotówki o – 4,5%.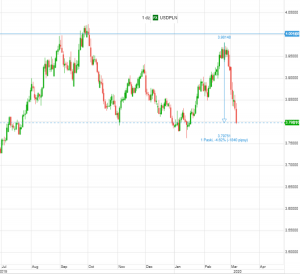 Także widzimy silna korelację indeksu dolara i pary walutowej USDPLN. Na platformie DIF Broker przy pomocy shortowania pary USDPLN istaniej możliwość zabezpieczania się przed spadkiem kursu dolara. Temat ten został obszernie opisany w artykule. Czytaj podobne:
Analiza dolara z : 21 lutego 2020