Osłabianie kursu Dolara, czy to już teraz?
Partrząc na poniższy wykres kursu Dolara, widzimy iż notowania dolara zaczeły się osłabiać od połowy maja 2020. Spadki te sięgnęły do poziomu wsparcia, po czym nastąpiła naturalna korekta wzrostowa, lecz tylko do poziomu 100. W dniu 25 maja kurs dolara powrócił do spadków, które to, dziś 26 maja, nabrały zdecydowanego rozpędu, co widzimy na poniższym wykresie.
Wykres kursu dolara, wykres 4 godzinny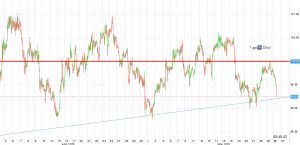 Czy to początek większych spadków kursu Dolara?
Wielu inwestorów posiada gotówkę, depozyty właśnie w dolarach, więc odpowiedź na to pytanie jest bardzo ważną kwestią. Aby odpowiedzieć sobie na to pytanie, musimy spojrzeć na notowania kursu dolara z wiekszej perspektywy. Poniżej widzimy wykres dzienny kursu Dolara. Widzimy, iż ostatni silny wzrost dla dolara miał miejsce od 09 do 23 marca, czyli w czasie ogłaszania światowej pandemii i kwarantanny. Zawsze w czasach niepokoju i strachu kurs dolara się umacnia i tak też stało sie i tym razem.
Wykres kursu dolara, wykres dzienny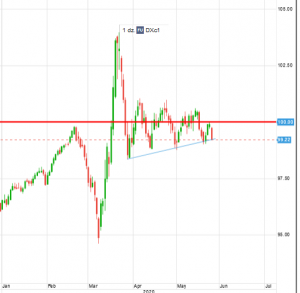 Poziom 100 pod którym aktualnie znajduje się kurs dolara, na wykresie indeksu dolara, jest tradycyjnym silnym poziomem oporu dla wzrostów. Spójrzmy na długoterminowy wykres miesięczny poniżej.
Wykres kursu dolara, wykres miesięczny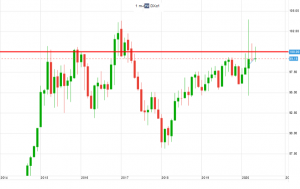 Widzimy iż historia pokazuje iż poziom 100 był zawsze obroniony na przestrzeni ostatnich lat. Indeks dolara znajdywał się na poziomie 100 w 2015, 2016 oraz w styczniu 2017, kiedy to indeks zanotował swój lokalny historyczny szczyt. Ten lokalny szczyt był to czas wyborów prezedenckich i od czasu kiedy Donald Trump został prezedentem dolar zaczął sie osłabiać.
Podsumowanie
Nie wiemy czy czas pandemii strachu już mamy za sobą, ale widzimy iż indeksy giełdowe takie jak SP500 oraz Nasdaq w znacznej mierze odrobiły już spadki cen akcji jakie miały miejsce w lutym oraz marcu. Pokazują się informacje w mediach głównego nurtu, iż wirus nie jest tak straszny jak na poczatku uważano. To są fakty. Jeśli zestawimy to z wyżej przedstawioną analizą techniczną, widzimy iż pojawiają sie realne przesłanki do oczekiwania, iż kurs dolara może zacząć sie osłabiać w stosunku do innych walut.
Informacja praktyczna. Hedging USD w stosunku do PLN
Niezależnie od rozwoju sytuacji, inwestorzy którzy chcą zabezpieczyć się przed spadkami kursu dolara, mają taką możliwość otwierając krótką pozycje na parze walutowej USDPLN i zarabiać na osłabiającym się dolarze. Więcej na ten temat tutaj. Na czas pisanie tego artykułu z grudnia 2019 koszty finansowania takich inwestycji to było 3-4% rocznie, aktualnie wynosza one poniżej 1%.