Osłabiający się dolar, czas na decyzję
Długo oczekiwane osłabienie dolara stało się faktem. Od szczytu z marca tego roku, notowania amerykańskiego dolara straciły już ponad 10%. Dziesięć procent jest tutaj czymś wymownym, ale to temat na odzielny post.
W tym momencie spadki sięgnąły już poziomu wsparcia, którym jest długoterminowa linia trendu wzrostowego. Czyli w tym rejonie będzie czymś naturalnym jeśli będziemy mieli do czynienia z czasowym odreagowaniem ostatnich spadków.
Wykres kontraków terminowych na indeks dolara, wykres ciągły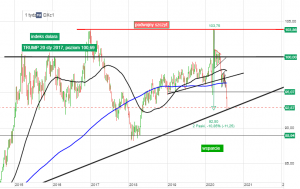 To co dzieje się z notowaniami dolara jest bardzo ważne. Kurs dolara jest skorelowany z pozostałymi aktywami oraz Nasi Klienci w znacznym stopniu posiadają inwestycję oraz gotówkę właśnie w dolarach.
Poniżej wykres notowań dolara w stosunku do polskiej złotówki. Taki instrument może być dobrym narzędziem dla zabezpiacznia się przed spadającym dolarem.
Wykres notowań pary walutowej USDPLN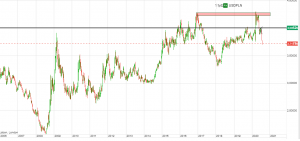 Patrząc na wykres powyżej widzimy, iż para USDPLN notuje spadki, analogicznie jak indeks dolara. Gdy para USDPLN traci na wartości, oznacza to iż dolar osłabia się, a złotówka się umacnia.
Jeśli inwestor chciałby zabezpieczyć swoje dolary przed ustratą ich wartości, może to zrobić na platformie poprzez zawarcie transakcji: Sprzedaż USDPLN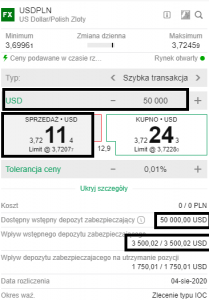 Na przykładzie powyżej, na koncie inwestycyjnym znajduje się 50 000 USD wolnej gotówki. Transkajcja polega na zawarciu krótkiej pozycji na całą wartość konta czyli na 50 000 USD. Jako iż jest to z dźwignią to aby przeprowadzić taką transakcję na koncie musi być minimalnie 3 500 USD.

Taka pozycja może być otwarta do czasu jej zamknięcia. Od czasu zawarcia takiej pozycji, pozycja będzie przynosić zyski jeśli dolar będzie się osłabiał, jeśli będzie się umacniaj, to pozycja będzie przynosić straty.
Pamiętajmy iż zyski/straty będą liczone od wartości nominalnej inwestycji 50 000 USD, także nawet drobne wahnięcia będą powodowały odpowiednio zyski lub straty z takiej inwestycji.
Koszt zawarcia transkacji to 19 USD, roczny koszt utrzymania takiej inwestycji jest rzędu 1%. Proszę zwrócić uwagę na procent wykorzystania depozytu! W naszym przykładzie jest to tylko 3%, gdyż na koncie wolna gotówka to 50 000 USD. Odpowiednio im mniej wolnej gotówki w stosunku do zajętej pozycji, to procent ten będzie wyższy. Jeśli doszedłby do 100% to taka  transakcja automatycznie zostałaby zamknięta.
Podsumowanie
Przedstawione tutaj narzędzie ma jedynie na celu przedstawienie sposobu zabezpieczania się przez ryzykiem walutowym. Ryzyko walutowe istnieje zawsze i można powiedzieć, iż nie podjęcie działań w celu zminimalizowania ryzyka walutowego także jest decyzją. W tym przypadku będzie to decyzja inwestowania w dolara.
Czytaj podobne: