Notowania indeksu DAX otworzyły się w dniu dzisiejszym w luką cenową wielkości 160 punktów. Luka ta została błyskawicznia zamknięta i w tym monecie notowania znajdują się w rejonach wczorajszych szczytów.
Notowania indeksu DAX
Zarówno wczoraj, jak i dzisiaj ceny znalazły wsparcie na poziomie 12 982, poziom ten, jest to zarówno dolne ograniczenia długoterminowej konsolidacji, jak i trzecie odbicie od linii trendu, która ma swój początek w styczniu 2019 roku.
Patrząc na na wykres indeksu DAX możemy się doszukać potencjalnej wzrostowej formacji odwróconej głowy i ramion. Jeśli formacja zostałaby spełniona, notowania będę musiały z powodzeniem przełamać i następnie odbić się od linii szyi, zaznaczoną tutaj żółtym kolorem.
Poziom znaznaczony na pomarańczowo to szczyt wszech czasów z stycznia 2018 roku.
Notowania indeksu DAX, wykres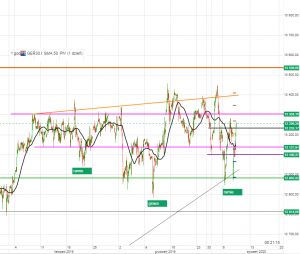 czytaj powiązane analizy: