Notowania Dolara, szansa na zatrzymanie spadków.
Notowania Dolara doszły do poziomu technicznego. Czy wyhamuje to dalsze spadki?
Notowania Dolara, szansa na zatrzymanie spadków
Od 23 marca do dziś notowania dolara straiły na wartości ponad 6%! W tym momencie notowania dolara doszły do poziomu wsparcia, gdzie jest szansa, iż pojawią się inwestorzy kupujący dolara, co może zatrzymać, przynajmniej czasowo, dalsze spadki.
Notowania Dolara, wykres indeksu USD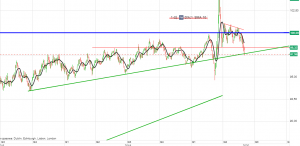 W sam raz notowania dolara, to jeden z moich ulubionych teamtów i z uwagą śledzę jego losy. A artykule na blogu z 26 maja o wymownym tytule Osłabiebie kursu dolara, czy to już teraz?  sygnalizowałam możliwy spadkowy scenariusz dla dolara. Od 26 maja do dziś 02 czerwca, notowania dolara mierzone indeksem dolara, stracił ponad 2%. Czas zastanowić się nad tym co dalej.
Czy tempo spadków dla Dolara zostanie utrzymane?
Zadaje sobie trudne pytania. Oczywicie tego nie wie nikt. Ale rysując linie wsparcia i oporów, uzyskujemy już pewną mapę, która podpowiada co może się wydarzyć w najbliższej przyszłości.
W okolicach narysowanej na zielono linii wsparcia możemy liczyć, na przynajmniej czasowe zatrzymanie tempa osłabiania się kursu amrykańskiego dolara.
Analizując indeks dolara, który jest dostępny na platformie DIF Broker, gdyż mamy dostęp do prawdziwych kontraktów futures, zyskujemy fantastyczne narzędzie, które jest dalece pomocne przy trading i inwestycjach na Forex, jak na przykład najbardziej popularnej pary walutowej jaką jest EUR USD.
Gdy notowania dolara ujegają osłabieniu, notujemy wzrosty na parze EURUSD, co bez wątpienia ma miejsce na przestrzeni ostatnich sesji giełdowych.