Megafon na indeksie SP500
Patrząc na notowania cen amerykańskiego indeksu SP500 na wykresie miesięcznym, czy tygodniowym, widzimy olbrzymią formację megafonu. Poniżej pokazana formacja na wykresie tygodniowym, gdzie każda z widocznych świeczek na wykresie, reprezentuje zmianę cen w zakresie jednego tygodnia.
Wykres tygodniowy indeksu SP500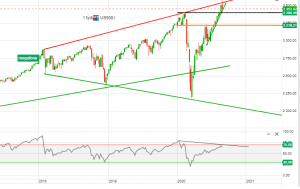 Patrząc na powyższy wykres widzimy, iż od początku 2018 notujemy podwyższoną zmianność cen amerykańskich akcji. Pod koniec roku 2018 giełda amerykańska zanotowała korektę rzędu 20% do poziomu 2 314, poziom minimalny z grudnia 2018. Następnie nastąpiło szybkie odbicie, i już w kwietniu 2019 indeks odrobił wszystkie spadki.
Kolejny gwałtony spadek notowań, miał miejsce ostatnio, od szczytu z lutego 2020 indeks zanotował gwałtowne spadki rzędu 35%, ale już w sierpniu wszystkie spadki zostały odrobione.
Także widzimy iż dwa razy powtórzyła się taka sam historia. To co się wydarzyło na indeksie od 2018 do teraz jest plastycznie ujęte w wymownej formacji megafonu. Megafon wydaje się krzyczeć zmiennością!
Wsparcie w formacji megafonu
Łącząc dołek z lutego 2018 z dołkiem z grudnia 2018 mamy narysowaą linię wsparcia, która tworzy dolne ograniczenie formacji megafonu. To właśnie z tego poziomu odbiły notowania w marcu tego roku!
Opór w formacji megafonu
Z kolei łącząc szczyt z stycznia 2018 ze szczytem z lutego 2020 uzyskujemy linię oporu, czyli górne ograniczenie formacji megafonu.  Pytanie jest jak rynek zareaguje na ten poziom oporu?
Podczas wczorajszej wideo analizy wskazywaam na formację megafonu i na tamten czas, rynek w najmniejszym nawet stopniu nie zareagowa jeszcze na tę formację. Link do wideo analizy 03.09.2020.
Dziś już wykres wygląda zupełnie inaczej, po zanotowaniu spadku cen ponad 4%! I media zaczynają mówić: Market sell off.
Pytanie, co dalej?
Poniżej wykres jedno godzinny indeksuSP500, gdzie każda świeczka na wykresie reprezentuje zmianę cen indeksu w ramach jednej godziny.
Wykres jedno godzinny indeks SP500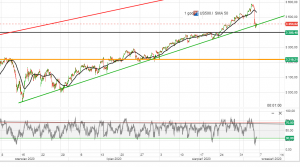 Na powyższym wykresie widzimy w czytelny sposób, iż od 15 czerwca ceny wspinały się do góry po liniii trendu wzrostowego. Oraz, co także ważne, notowania oscylowały zawsze w okolicach średniej ruchomej 50, która także jest widoczna na wykresie.
Teraz widzimy, iż ta sielanka zostaje zachwiana. Notowania znajdują się poniżej średniej. Lecz w dalszym ciągu na lini trendu wzrostowego.
Czy utrzyma się spadkowe momentum?
Na ten moment wsparcie stanowi omawiana linia trendu, zaznaczona na wykresie powyżej na zielono. Jeśli linia ta zostanie przełamana, trzeba będzie szukać kolejnych poziomów wsparcia z wyższych interwałów czasowych, pierwszym takim poziomem wydaje się być szczyt z lutego 2020, region 3370 punktów.
Kolejnym kluczowym poziomem to szczyt z czerwca 2020, który to poziom jest także poziomem, gdzie notowania znajdywały się na początku roku, czyli 2 stycznia 2020.
Dziś dane makroekonomiczne, ogłoszenie danych o bezrobociu z USA o 14.30 czasu w Polsce. Spodziewane zmienność w tym czasie.
Słowo na koniec
Jako, iż jest to formacja z widoczna na wykresie tygodniowym i wykresie miesięcznym , należy obserwowac zamknięte świece z tych interwałów czasowych.