Rok 2008 i 2018, czy będzie powtórka krachu?
Rok 2008 i 2018, czy będzie powtórka krachu?
Rok 2008 i 2018, czy będzie powtórka krachu?
Prowadząc dla moich Klientów usługi doradztwa inwestycyjnego, opieram się na własnym doświadczeniu będącym inwestowaniem o długim horyzoncie czasowym i który sprawdził się na przestrzeni ostatniej dekady.
Omówię tutaj wskaźnik, który jest prawdziwą perełką i skarbinicą wiedzy. Jest to porównanie wykresu rynku pieniężnego w stosunku do równo ważonego indeksu S&P500. Aby za bardzo nie wchodzić tutaj w szczegóły techniczne, na wykresie generowane są sygnały kupna dla rynku pieniężnego oraz sygnały kupna dla równo ważonego indeksu amerykańskich akcji.
Jak to działało w ostanich latach?
Sygnał przejścia do rynku pieniężnego i tym samym wyjścia z inwestowania w indeks został wygenerowany w lipcu 2008. Przypomnę tutaj, iż Lehman Brothers upadł w połowie września 2008 i wtedy wybuchł ostatni krach, jaki jeszcze wszyscy doskonale pamietamy. Był to bardzo cenny sygnał.
Natomiast nie mniej ważny sygnał powrotu do inwestowania na giełdzie amerykańskiej został wygenerowany już w maju 2009, w czasie kiedy absolutnie wszyscy bali się nawet pomyśleć o powrocie do aktywnego inwestowania w akcje.
Od czasu 2009 nie było wygenerowanego ani jednego sygnału powrotu do rynku pieniężnego, czyli opierając się na tym wskaźniku, inwestor mógł czerpać korzyści z ostatniej 10 letniej hossy.

A jak to wygląda obecnie?
W tym momencie jesteśmy pierwszy raz od 2009 roku, w takim położeniu, iż musimy bacznie obserwować rynek. Rynek akcji znajduje się w stresującej sytuacji na skutek niepewności na świecie odnośnie braku płynności dostarczanej przez banki centralne, lecz z drugiej strony amerykańskie buy back powinnym być wsparciem dla giełdy amerykańskiej.
Pomimo, iż jesteśmy prawie w punkcie zwrotnym, wskaźnik który tutaj omawiam i który sprawdzał się w przeszłości nie może stanowić gwarancji, iż będzie także dobrzez działał na przyszłość. W inwestowaniu ryzko inwestycyjne jest nieodzowną częścią każdej inwestycji i musimy mieć to zawsze na uwadze.


Wykres indeksu S& P 500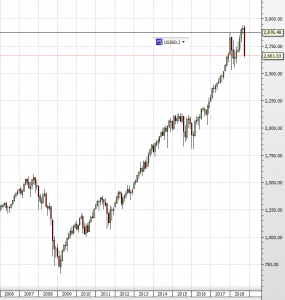 źródło: platforma DIF Broker

Wykres 3 miesięczne bonów skarbowych USA

źródło: marketwatch
Inwestorzy, którzy chcieliby dowiedzieć się czegoś więcej i uzyskać więcej informacji na temat możliwości inwestycyjnych, w szczególnosi usługi doradztwa inwestycyjnego, zapraszam do bezpośredniego kontaktu ad@difbroker.com.