Koronawirus i korekta na giełdzie 
Od prawie dwóch miesięcy świat słyszy o wybuchu wirusa zwanego "koronawirusem" i do jeszcze niedawna wirus nie miał wpływu na notowania akcji na giełdzie amerykańskiej. Mówiąc dokładniej, jeszcze w zeszłym tygodniu (19 lutego), S&P 500 osiągnął nowy rekord w historii. Jednak wraz z pojawieniem się nowych wiadomości na temat rozprzestrzeniania się wirusa i liczby przypadków na całym świecie, giełdy zaczynają zwracać uwagę na koronawirus. W ciągu czterech ostatnich sesji giełdowych indeks S&P 500 zanotował korektę rzędu 10%, dane na 27 lutego 2020.
Dwie kolejne sesje spadki większe niż 3%
Patrząc na spadki z dnia 24 i 25 lutego, indeks spadł w każdym z tych dni więcej niż 3%. Jest to pierwszy tkai przypadek do sierpnia 2015, kiedy indeks traci na wartości więcej niż 3% przez 2 kolejne sesje giełdowe.
Jak koronawirus wpłynie na giełdy?
Koronawirus, wirus, który zainfekował już ponad 80 000 osób, gdzie zanotowane są 3 0000 przypadków śmiertelnych, rozprzestrzenia się na całym świecie. Inwestorzy muszą zadać sobie pytanie, w jaki sposób wpłynie to na giełdy oraz inwestycje?
Chociaż nie ma żadnej pewności, jak będzie miało miejsce "tym razem", możemy cofnąć się do poprzednich pandemii zdrowotnych, aby zobaczyć, jak przebiegały te wydarzenia. Na potrzeby naszych celów przyjrzymy się trzem ostatnim poważnym epidemiom, w tym SARS w latach 2002-2003, H1N1 (lub świńskiej grypy) w latach 2009-2010 i Ebola w latach 2013-2016.
Obserwacje z poprzednich wybuchów epidemii
W poniższej tabeli przyjrzeliśmy się wynikom z inwestycji  w okresach tych wydarzeń oraz znaleźliśmy kilka interesujących obserwacji.
Chociaż długość trwania trzech poprzednich wybuchów epidemii była różna, wszystkie trwały co najmniej jeden rok, a kiedy wszystko zostało powiedziane i zrobione, rynek akcji w USA (SPY) zdołał uzyskać dwucyfrowe zwroty. Największy wzrost nastąpił podczas epidemii świńskiej grypy, która również zbliżyła się do dolnej granicy giełdy z 2009 roku.
Wyniki z inwestycji z giełd międzynarodowych były mieszane. Podczas epidemii SARS i świńskiej grypy akcje z giełd międzynarodowych były zgodne z amerykańskimi; Ebola odnotowała jednak bardzo różne wyniki w przypadku akcji międzynarodowych, ponieważ zarówno EFA, jak i CWI odnotowały dwucyfrowy spadek w tym okresie.
Należy oczekiwać zmienności. W każdym z trzech wybuchów epidemii na rynkach akcji doszło w pewnym momencie do dwucyfrowych spadków.
Wyniki giełdowe w czasach poprzednich epidemii zdrowotnych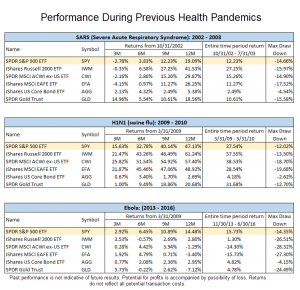 Żródło: DWA Nasdaq
Wróćmy do tu i teraz.Wybuch koronawirusa ma zaledwie około dwóch miesięcy, a pierwsze przypadki odnotowano początkowo w grudniu 2019 r. (Pierwszy przypadek śmiertelny zgłoszono w styczniu 2020 r.), Więc jest zbyt wcześnie, aby powiedzieć, jak będzie przebiegać ta pandemia. Jeśli historia jest jakimkolwiek przewodnikiem, sugerowałoby to, że możemy spodziewać się podwyższonej zmienności na giełdzie, zanim koronawirus zostanie w pełni pokonany. Żadne z poprzednich wydarzeń nie doprowadziło jednak do katastrofalnego wydarzenia na giełdzie. W rzeczywistości jest zwykle odwrotnie, ponieważ giełdy reagują dobrze po początkowej zmienności.
Oglądaj wideo na kanale you tube