Korekta na srebrze, co dalej?
W piątek miałam przyjemność prowadzić Webinar dla Klientów DIF Broker pod tytułem Połowa 2020. Co dalej?
Co dalej, jest zawsze ważnym pytaniem.
Na webinarze, podkreślałam iż w odniesieniu do srebra, wyceny srebra dotarły do poziomu oporu, gdzie możemy się spodziewać korekty notowań. Zaznaczyłam także, iż możemy się dodatkowo spodziewać gwałtownej korekty rzędu 20 procent.
Dziś mamy środę i wszystko to zostało już zrealizowany, pozostaje zawsze aktualne pytanie: Co dalej?
Spójrzmy na chwilę na kontekst aktualnej sytuacji.
Długoterminowy wykres srebra XAGUSD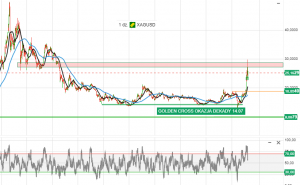 Licząc od 17 lipca, notowania srebra zyskały na wartości 56%! Jest to zdecydowanie bardzo silny wzrost notowań srebra. Na porannej analizie giełdy z 14 lipca informowałam, iż dla srebra mamy okazję dekady, jako iż został wygenerowany sygnał Golden Cross.
Jak widzimy na wykresie powyżej, widzimy, iż aktualnie ceny doszły i już odbiły od poziomu oporu. Tym poziomem oporu jest poziom dołków z 2012, 2013 roku.
Jako, iż wzrosty, czyli impuls  ceny był bardzo silny i gwałtowny, mogliśmy się spodziewawać, iż korekta tego impulsu, która jest czym jak najbardziej naturalnym, także bedzie miała gwałtowny charakter.
Wykres srebra, wykres jedno godzinny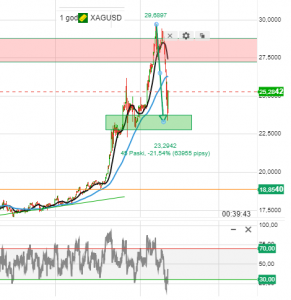 Na wykresie powyższym każda świeca reprezentuje jedną godzinę notowań. Widzimy iż notowania zanotowały w przeciągu jednego dnia korektę rzędu 20%. Notowania błyskawicznie znalazły się w rejonach ceny, wskazanej na wczorajszym wideo jako poziom wsparcia. Jest to poziom gdzie już wcześniej ceny się zatrzymały.
Czy jest to czas na zakupy?
Nikt nie ma krysztaowej kuli i nikt nie może przewidzieć przyszłości. To co natomiast możemy zrobić to oszacować prawdopodobieństwo, sprawdzić relację zyzyka do zysku.
Na wykresie godzinnym widzimy, iż wskaźnik RSI jest na pozimach wyprzedania, czyli jest to statystycznie moment, gdzie można rozważać długi pozycje.
Pamiętajmy jednakże iż jest to korekta, z opru z 2012/2013 roku! Czy taka korekta zostanie załatwiona w ciągu tylko jednego dnia?
Kolejny poziom wsparcia
Gdzie można nakreślić kolejny poziom wsparcia, jeśli aktualny poziom nie zostanie zachowany?
Nakadając wspaźnik zniesienia Fibonaciego, mamy procentowy obraz korekty. Aktalanie korekta sięgneła poziomu 38%. Kolejnym pozimem jest poziom 50%.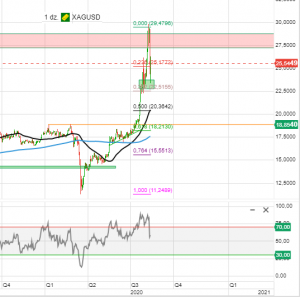 Długoterminowo
Długoterminowo dla srebra mamy trend wzrostowy. To z czym mamy teraz do czynienia jest tylko korektą. Inwestorzy długoterminowi inwestujący w srebro mogą wykorzystywać korekty do zwiększenia swoich inwestycji. W końcu wyceny są niższe niż jeszcze kilka dni temu. Lecz nikt nie może zagwarantować, iż korekta osiągneła już swoje minimum.
Czytaj powiązane:
Golden Cross i silne wzrosty na srebrze