Inwestycje: zmiana w ranking aktywów globalnych
W rankingu globalnych aktywów inwestycyjnych, po raz pierwszy od sierpnia 2016 roku, akcje amerykańskie utraciły swoją czołową pozycję. Aktualnie w ranking na pierwszym miejscu znajdują się obligacje, na drugim gotówka i na trzecim akcje amerykańskie. Ostatni raz akcje amerykańskie utraciły pozycje lidera w 2016 roku, po trzymaniu pozycji lidera od 2011 roku.
Ranking globalnnych aktywów inwestycyjnych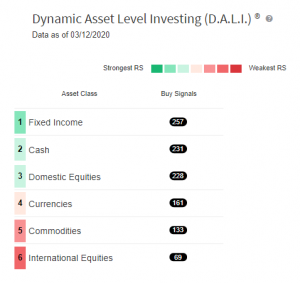 Źródło DWA NASDAQ
Inny użyteczny wskaźnik to Procentowy Indeks Hossy giełdy NYSE. Wskaźnik ten aktualnie znajduje się na poziomie 6 %. Ostatnio na takich pozimach był we wrzesniu 1974, październiku 1987, październiku 2008 oraz listopadzie 2008. Wskaźnik ten mówi nam jaki procent akcji z giełdy amerykańskiej NYSE znajduje się aktualnie w sygnale kupna analizy punktowo symbolicznej. Najniższy historyczny odczyt to 4% i miał miejsce w październiku 2008 roku.
Procentowy indeks hossy giełdy NYSE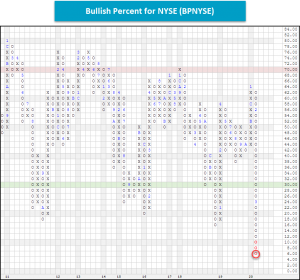 Źródło DWA NASDAQ
Uznaje się, iż akcje są wyprzedane, gdy wskaźnik ten znjaduje się poniżej 30%. Na takich poziomach mogę pokazać się okazje inwestycyjne. Należy równocześnie pamiętać, iż giełda może pozostać na takich poziomach wyprzedania przez dłuższy czas, patrzmy powyżej np. na rok 2015 do 2016, lata zaznaczone na dole osi wykresu. W tym momencie nie ma także oznak uformowania dna.
FED obniżył stopy procentowe do ZERA i reakcja giełdy
W nocy w niedzielę FED obniżył stopy procentowe do ZERA, celem ratowania sytuacji, lecz co zasługuje na uwagę, także i kolejne obcięcie stóp procentowych, nie zostało pozytywnie przyjęte przez giełdy. Notowania kontraktów futures na amerykańskie indeks SP 500 straciły na wartości 5%, także sa po raz kolejny czasowo zawieszone. Oczekiwane odwieszenia na otwarciu sesji giełdowej giełdy amerykańskiej.
Jutro Wideo Analiza dla Klientów DIF
Zapraszam na wideo analizę jaka będzie w dniu jutrzejszym wysyłana Klientom DIF. W razie nie otrzymania e/mail, proszę o sprawdzenie skrzynki SPAM.
Nasz kanał na YouTube
Subskrybuj już dziś nasz kanał na You Tube