Index Dolara
Na platformie DIF dostępny jest indeks dolara w postaci kontraktu terminowego. Dla celów analizy technicznej należy wybrać wykres ciągły…
Index Dolara
Index dolara jest to indeks mierzący wartość amerykańskiego dolara w stosunku do koszyka sześciu innych walut. Poniżej 6 waluty tworzące koszyk walut wraz z procentową wagą w koszyku:
Euro (EUR) 57.6%
Jen Japoński (JPY) 13.6%
Funt Brytyjski (GBP) 11.9%
Dola Kanadyjski (CAD) 9.1%
Korona Szwecka (SEK) 4.2%
Frank Szwajcarski (CHF) 3.6%
Historia Indeksu dolara
Indeks dolara został stworzony w marcu 1973 roku, tuż po zerwaniu z systemem Bretton Woods. Swoje pierwsze notowanie indeks miał na poziomie 100. Od tego czasu maksimum notowań indeksu przypada na 164 w lutym 1985 oraz minimum 70 w ramcu 2008.
Indeks notowany jest na giełdzie kontraktów futures ICE. 
Gdzie znaleść notowania indeksu dolara?
Na platformie inwestycyjnej DIF dostępny jest indeks dolara w postaci kontraktu terminowego. Dla celów analizy technicznej należy wybrać instrument DXC1, jest to wykres ciągły, będącym połączeniem wszystkich kontraktów futures.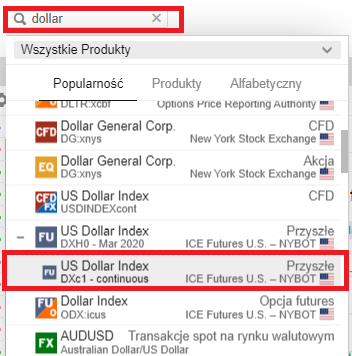 Wykres indeksu dolara
Kiedy indeks zyskuje na wartości oznacza to iż siła dolara wzrasta w relacji do siły pozostałych walut.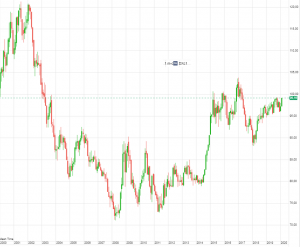 Czytaj podobne: