Giełda USA – analiza w długim terminie
Olbrzymia część inwestorów i trejderów obstawia spadki na indeksie SP500 od wielu, wielu lat. Tymczasem, w tym tygodniu indeks ten, po raz kolejny osiągnął nowy szczyt wszech czasów! Moim zdaniem analiza techniczna pozwala na eliminację emocji w inwestowaniu i pozwala na skupienie się na aktualnych faktach.
Skoro tak, to zobaczmy jaka teraz jest aktualna sutuacja dla indeksu, w spojrzeniu w długim terminie. Poniżej wykres tygodniowy SP500.
Wykres SP500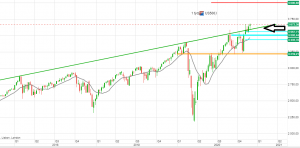 Na wykresie powyżej widzimy zieloną linię łączącą szczyty: z stycznia 2018, lutego 2020, z sierpnia 2020 oraz listopada 2020. Ten widok jest tylko fragmentem więszej całości. Linia ta datuje swój początek w 2009 roku i stanowiła swego rodzaju opór dla wzrostów cen indeksu z ostatniej dekady.
Tym razem opór został przełamany! 
Proszę zauważyć, iż wybuch paniki pandemii covid, który miał miejscu w marcu tego roku, odbył się także gdy notowania znajdywały się na omawianej linii oporu!
Wtedy to nastąpiły gwałtowne spadki ponad -35%. Od tego czasu jednakże wszystkie spadki na indeksie SP500 zostały już odrobione i to z nawiązką.
W tym roku notowania już kilkakrotnie poróbowały przeforsować omawianą linię oporu. Pierwszy raz pod koniec sierpnia, następnie w październiku i  na początku listopada, patrz wykres poniej.
SP500 ten sam wykres w zbliżeniu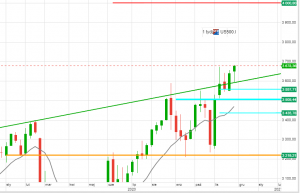 Przedostatnia świeca widoczna na powyszym wykresie, to świeca zamykająca listopad. Widzimy, iż notowania zamkneły się już ponad linią oporu – czyli, iż opór został przełamany!
Po każdym przełamaniu na wykresie, ważna jest także kolejna świeca, czyli w tym przypadku świeca z bieżącego tygodnia. W tym togodniu SP500 zyskał na wartości 2,10%i póki co notowania wyrysowały zieloną świecę odbijającą się od kluczowego poziomu.
Nie ma żadnych gwarancji
Oczywiście nie ma żadnych gwarancji, iż ceny indeksu będę w dalszym ciągu zyskiwały na wartości.  Analiza techniczna pomaga w oszacowaniu trendu, i oszacowaniu prawdopodobieństwa.
Podsumowanie
Przypomnienie:  na giełdzie to iż ceny są wysoko, nie ozbnacza iż będą nisko.
Są wysoko i nic nie stoi na przeszkodzie, aby wzrosły jeszcze wyżej. Tutaj nic nie stoi na przeszkodzie, można potraktować nawet bardziej dosłownie, gdyż opór, czyli przeszkoda, została pokonana.
Zapraszam na kanał DIF BROKER POLSKA na You Tube do wideo, gdzie omawiam w ujęciu długoterminowycm amerykańskie indeksy: