Indeks DAX, czy będą większe spadki?
Mamy początek tygodnia oraz początek miesiąca, notowania niemieckiego indeksu DAX znajdują się na poziomie oporu wynikającego z wykresu dziennego. Spójrz na wykres poniżej.
DAX, wykres dzienny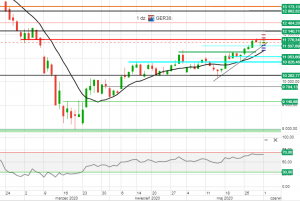 Na wykresie poniżej poziom oporu zaznaczony jest czewoną poziomą linią i przebiaga na poziomie 11 776 punktów. Jest to poziom dna cenowego, na którym to notowania zatrzymały się od 28 lutego do 5 marca.
Spójrzmy na giełda reaguje aktualnie na ten poziom ceny, przechodząc na wykres jedno godzinny.
DAX, wykres 1 godzinny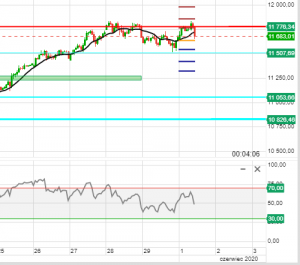 Odbicie od podwójnego szczytu
Przede wszystkim na uwagę zasługuje fakt, iż dzisiejsza sesja europejska rozpoczęła się od spadków. Od 9 rano do 10:30 indeks stracił na wartości -1,20%, odbijając od wyżej wpominanego poziomu oporu. Notowania były już na tym pozimie pod koniec zeszłego tygodnia, dlatego też jest to odbicie od podwójnego szczytu.
Patrząc na notowania indeksu DAX na wykresie 1H, widzimy iż notowania znajdują się w dalszym ciągu ponad linią trendu wzrostowego. Aktualnie zejście notowań DAX do poziomu 11 590 bedzie oznaczało test lini trendu wzrostowego.
Możliwy scenariusz dla DAX
Jeśli notowania utrzymają się poniżej poziomu oporu i równocześnie zejdą do poziomu  wsparcia 11 590, bedzie to oznaczało, iż notowania będą się starały znaleść popyt/wsparcie na tym poziomie.
Statystycznie patrząc, gdy notowania znajdują się nad lini trendu wzrostowego, po wcześniejszm odbiciu od podwójnego szczytu, to formacja podwójnego szczytu wygaje się być silniejszą formacją.
Podsumowanie
Okazja swing trade na dzisiejszą sesję tak naprawę już miała miejsce, wczesnym rankiem na poziomie 11 810 punktów. Niemniej jednak, aktualnie można obserwować indeks DAX, aby móc czerpać korzyście z wczesnego zdiagnozowania momentum w średnim terminie , który bez wątpienia znajduje się w silnych poziomach wykupienia.