Hurraoptymizm na giełdzie USA
Na skutek ostatnich wzrostów cen amerykańskich akcji, powstały 3 luki cenowe. To przykuwa uwagę, jako, iż jako to się mówi żargonem giełdowym: luki lubią być zamykane. Spójrzmy zatem na obraz techniczny indeksu SP500.
ANALIZA W DŁUGIM TERMINIE
Poniżej wykres indeksu S&P500, wykres tygodniowy, gdzie każda świeca obrazuję zmianę notowań na przestrzeni jednego tygodnia. Patrząc na wykres widzimy, iż notowania cen z ostatnich lat znajdują się w przedziale cenowym ograniczonym linią wsparcia i linią oporu, tworząc tym samym rozszerzający się trójkąt, lub inaczej formację megafonu. Pisałam o tej formacji na początku września.
Czyli patrząc z perspektywy długoterminowej indeks znajduje się na pozomie OPORU i wiemy, iż notowania już odbiły od tego poziomu 31 sierpnia i od tego czasu notowania znajduję się w korekcie notowań.
Amerykańskie indeks S&P500, wykres tygodniowy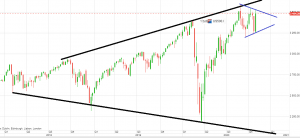 ANALIZA W ŚREDNIM TERMINIE
Spojrzmy zatem na korektę, która ma miejsce od końca sierpnia.  Jest ona widoczna na wykresie powyżej, jest to mały trójkąt zaznaczony na niebiesko. Ta sama korekta przedstawiona jest w zbliżeniu poniżej na wykresie dziennym, gdzie każda świeca obrazuje zmianę notowań w czasie jednej sesji giełdowej.
Amerykańskie indeks S&P500, wykres dzienny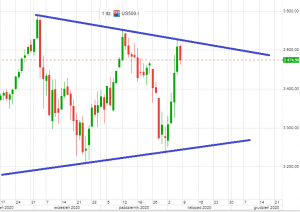 Po raz pierwszy od 1982 roku , cztery kolejne sesje giełdowe zanotowały wzrosty powyżej 1% zarówno dla indeksu DOW jak i indeks S&P500. Czyli widzimy i ostatnie wzrosty są bardzo silne!
Jednakże aktualnie ceny doszły do poziomu oporu, którym jest górne ograniczenie trójkąta.
Najbardziej jednakaże przykuwa moją uwagę inny fakt. Iż na rynku kasowym, czyli na rynku akcji, ostatnie 3 sesje giełdowe otwierały się z lukami wzrostowymi. Obrazuje to wykres funduszu SPY poniżej.
Fundusz SPY na amerykańską giełdę, wykres dzienny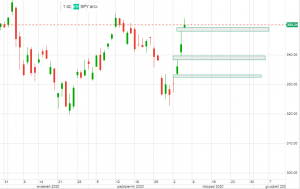 Z punktu widzenia analizy technicznej istnieje pewna maksyma, iż ** luki lubią być zamykane**…
Podsumowanie
Notowania amerykańskiego indeksu giedowego S&P500 znajdują się na poziomie oporu wynikającego z wykresu zarówno tygodniowego, jak i dziennego. Powstały luki cenowe. Są to argumenty pro spadkowe.
Ale nie możemy zapominać, iż trend dla amerykańskiej giełdy jest aktualnie wzrostowy. Oraz iż indeks spółek z sektoru technologii NASDAQ już wcześniej, w sierpniu tego roku, przełamał poziom oporu wynikającego z wykresu w długim terminie. Wskazuje to na ogromny popyt i siłę kupujących.
Zapraszam na wideo giełdy z rana, gdzie na bieżąco analizuję wykresu: