Golden Cross i silne wzrosty na srebrze
Uważam, iż analiza fundamentalna jak najbardziej ma sens, gdyż daje nam ona informacje dlaczego dane aktywo może drożeć lub tanieć. Lecz analiza fundamentalna w połączeniu z analizą techniczną to prawdziwa broń!
Jak głosi klasyczne powiedzenie, które idealnie odwzorowuje to co chce powiedzieć: Analiza fundamentalna mówi nam CO kupić, a analiza techniczna mówi nam KIEDY.
Golden Cross okazja dekady dla srebra
Wprost fenomentalnie sprawdziło się to na przykładzie srebra. W ostatnich tygodniach na wykresie tygodniowym srebra miał miejsce tak zwany Golden Cross, czyli szybsza średnia ruchoma 50 przecieła do góry wolniejszą średnią ruchomą 200.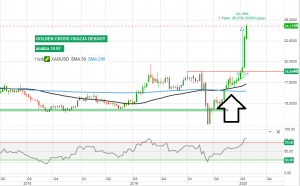 Wskazałam to na porannym wideo analizy technicznej 14 lipca. Od tego czasu do dziś 28 lipca notowania srebra zyskały ponad 35%!
Argumenty analizy fundamentalnej
Inwestorzy długoterminowi, od wielu miesięcy, a nawet lat, widzą fundamentalne przesłanki do tego, aby notowania srebra wzrastały. Ale dopóki rynek nie zacznie tego odzwierciedlać, czyli dopóki nie pojawi się więcej kupujących, aniżeli sprzedających, nie będzie wzrostu cen!
Czyli możemy mieć rację, ale nie zarobimy na tym pieniędzy, dlatego tak ciekawy rozwiązaniem jest połączenie obu tych analiz.
Połączenie analizy fundamentalne i analizy technicznej
Jeśli inwestor jest przekonany do danego aktywu pod względem analizy fundamentalnej i dodatkowo aktywo generuje potwierdzenie w postaci analizy technicznej, jest to najbardziej poszukiwana sytuacja.
Analiza techniczna, czyli analiza wykresu jest niczym innym jak analizą ceny. Za pomocą analizy technicznej możemy ocenić, ktor wygrywa walkę czy strona podażowa czy strona popytowa.
Poprzedni Golden Cross dla srebra
Ostatni raz sygnał golden coss dla srebra miał miejsce w 2009 roku, poniżej wykres pary walutowej srebra do dolara, czylu XAGUSD.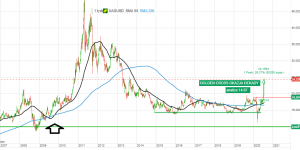 Wykres Forex XAGUSD obrazuje czysty kurs Spot rynku srebra, ale taką samą anologię wzrostu cen widzimy także i dla funduszy srebra, jak na przykład poniżej wykres tygodniowy funduszu PSLV funduszu na fizyczne srebro.
Poniżej wykres fundusz srebra PSLV

PSLV także od 14 lipca zanotował wzrost cen ponad 25%.
Zapraszam do subskrypcji kanału You Tube, gdzie rano we wtorki i w czwarki publikuje aktualny przegląd wykresów.
Czytaj powiązane: